Boston Show of the Week: Morning Benders & The Submarines
NATIONAL TOUR SPOTLIGHT:
I fear it maybe already too late to act in Boston as we hear that
The Submarines/Morning Benders show at the Middle East in Cambridge this Friday is sold out.
(
Note:
the outstanding
Dawn Landes
and her band are supporting - get there early to see them! Friday is their last appearance on this tour!) Selling the show out days ahead is impressive but certainly not unexpected.... (I refer you to
Morning Benders and Submarines to Tour in '09
....
RSL 12/3/09
) Maybe somebody was paying attention.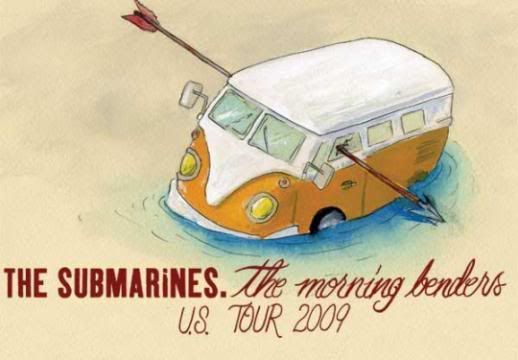 There's still a chance for those of you outside Boston.

Get your tickets

now.
A look ahead for these two red hot indie rock bands shows there is one hell of a tough road ahead... Namely, an absolutely insane stretch of 13 shows from Feb. 13 (this Friday in Boston) to Feb. 28th in Los Angeles. That's a baker's dozen of shows in as many cities on both sides of the US/Canadian border in just 17 days! (Whoa. "Ambitious" would be an understatement!)
For those of you with tickets - I will see you there Friday night. Get ready for a hell of a show!
The Submarines
The Submarines - Waiting for a War
[
Morning Benders cover!
]
The Morning Benders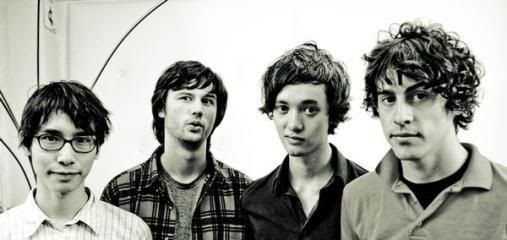 The Morning Benders - 1940
[
The Submarines cover!
]
CITIES & DATES
Feb 13
-
The Middle East
- Cambridge, MA
Feb 14
- Il Motore - Montreal
Feb 15
- The Drake Hotel - Toronto
Feb 17
- Schuba's - Chicago
Feb 18
- The Triple Rock - Minneapolis
Feb 20
- The Hi-Dive, Denver
Feb 21
- Kilby Court - Salt Lake City
Feb 23
- The Biltomore - Vancouver
Feb 24
- Chop Suey - Seattle
Feb 25
- Doug Fir - Portland
Feb 27
- Slim's (Noise Pop) San Francisco
Feb 28
- The Troubadour - LA