The Bitter Tears' "Jam Tarts" will Warm Winter Nights
A Vibrant New Album:
I imagine it goes without saying that I listen to a lot of albums. That said, "
love at first listen
" is a decidedly rare occurrence - I doubt it happens more than four times a year. The alt-country stirrings and diverse influences on "
Jam Tarts in the Jakehouse
" the sophomore album from Chicago's
The Bitter Tears
(March 3 on
Carrot Top
) made it easy to fall for this upbeat and quirky record.
The Bitter Tears -

Jam Tarts in the Jake House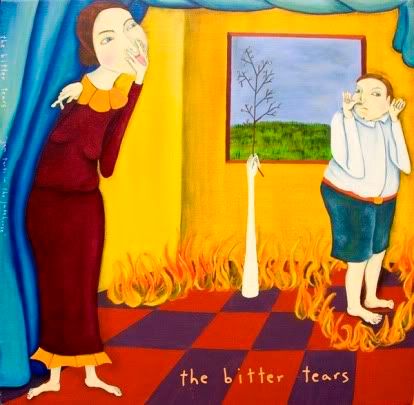 March 3 on Carrot Top Records
Jam Tarts gives us a rock-country flavored album spiced with a dash of south-of-the-border. A couple of the songs ("
Starlight
" and "Worthless Sleeze") even have a
Squirrel Nut Zippers
vibe. (On other tracks we hear elements of
Cracker
and
Of Montreal
!) Its just these kind of vibrant, shining moments, strung together that makes summer seem not so far away.
The Bitter Tears
are
Alan Scalpone (vocals, guitar, brass, woodwinds), Michael McGinley (vocals, brass, strings), Bill Borton (drums), John Leonard (piano) and Greg Norman (vocals, guitar, trombone). Besides the astounding number of instruments, much of what you read about them is that their live shows are "really something". Apparently their last tour involved a fair number of wedding dresses being worn. Reviewers also frequently threw around the term "vaudevillian" in describing their performance which suggests a pretty entertaining show.
This is a great CD, pick it up March 3rd.
UPCOMING DATES
Mar 7 - Hideout - Chicago, IL
Mar 12 - Gasthaus - Eligin, IL
Mar 13 - Basement 414 - Lansing, MI
Mar 14 - The Old Miami - Detroit, MI
Mar 15 - Grasslands - Brooklyn, NY
Mar 17 - Mohawk Place - Buffalo, NY
Mar 18 - The Pour Haus - Louisville, KY
Mar 20 - Valley of the Vapors Festival - Hot Springs, AR
Mar 21 - The Cinemat - Bloomington, IN