Recurrent Classic: Lifeguard Nights - Punch Sky
DATELINE:

the NEW JERSEY SHORELINE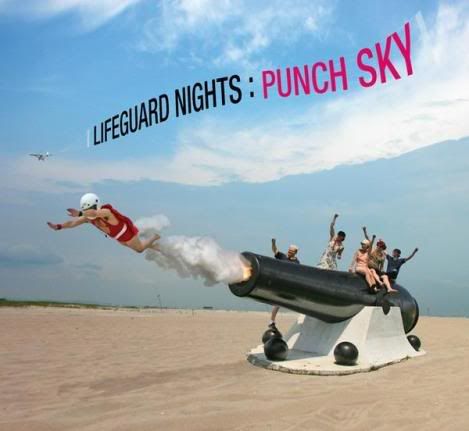 Punch Sky is Funny but Pretty Damn Amazing
When skilled musicians have a great sense of humor!
Following a Tip from a Good Friend...
We have been following the wild career of
Lifeguard Nights
long before they changed their name (from the mouthful: South Jersey Seashore Lifeguard Convention Band!)
That's not all that's different about Nights...
They are a massive band - with as many as 11 members on stage at any of their shows, LN is its own supergroup! While still making their mark on new audiences, the band has already played in front of crowds at NY's Bowery Ballroom, Mercury Lounge and Maxwell's in New Jersey. (We would love to see them take a turn up north - and soon! )
Lifeguard Nights is a band that loves a good joke as much as they like their music.
Funny, sure - but musically speaking,
PUNCH SKY is definitely one of the better albums we have heard this year
.
Is it the band's fault they had a great time recording it?
Ween
(last year's
La Cucaracha
was insanely good) and
They Might Be Giants
completely understand how to write a song with humor interchanged with the notes. Run out and pick up Punch Sky (
click here for the Headshop Records site
.)