Meet Logan 5 and The Runners
HOT DEBUT:
Today is the day that Boston sons,
Logan 5 and The Runners
release their wicked
self-released album
,
Featurette
. This band has an awesome post-Brit, new wave sound (think Pulp, Blur, David Bowie and Supergrass) that has us thinking L5ATR is going to be one of this city's hottest exports of 2009.
Featurette is out today
Song Structure:
The nine tracks on
Featurette
are designed to free the "9-5"er in all of us. Sharp, punctuated drum driven forward by keys and rythmic bass only to be chopped up by electric guitars. These are songs that move the listener and make them forget their troubles at the door. We are further fueled by David Berndt's voice which seems it was pretty much made for smoky lounge rooms and dark epiphanies.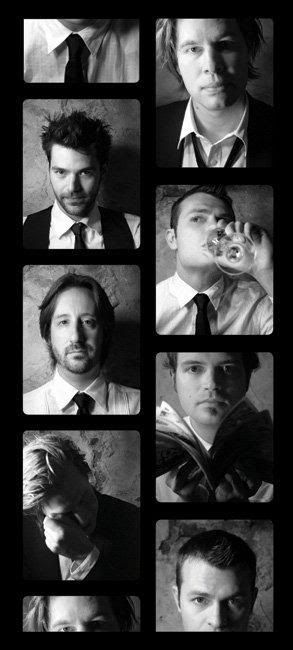 Style and Manner:
Logan 5 and the Runners are David Berndt (voice and guitar), Chris Barrett (keyboards and trumpet), Nick Balkin (guitar), Mike DeLisle (bass) and Mark Beaulieu (drums). The band's unusual name pays tribute to the scifi film Logan's Run - a total cult classic from 1976 with tons of socio-political undertones. It's definitely one of my favorite films from that time period (this writer has a copy on DVD) if for no other reason than for imagery, tone and feel projected in
that movie
. It was a great choice in naming the band. (It doesn't hurt that Berndt looks quite a bit like actor Michael York who played "Sandman" Logan 5 in Logan's Run.)
Unleashed Tonight in Boston:
The
Featurette
CD Release Party will take place tonight at
Great Scott
in Allston. With an all-Boston lineup of old friends and new, this is where you should be spending your entertainment dollar tonight!
The Daily Pravda
(9:30 pm)
The Luxury
(10:30 pm)
Logan 5 and the Runners
(11:30 pm)