Hide the Children! The Local Natives have Arrived
SHOWS OF NOTE / A NEW FAVORITE:
Tonight
, RSL recommends
you fight through the cold and see what all the fuss is about. Los Angeles'
Local Natives
created quite a bit of buzz at home prior to embarking on a coast-to-coast national tour this Winter. The results of this fun frenetic tour with this currently UNSIGNED band have been somewhat predictable.... People love them!
Tonight they play
TT the Bears
in Cambridge
. Put your winter gear on but bring your dancing shoes with ya!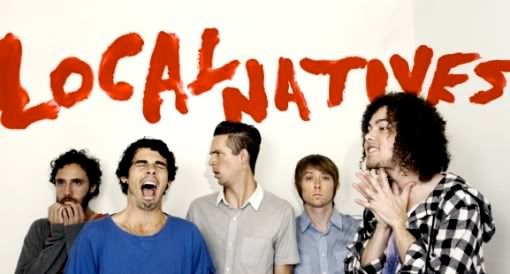 Go Native!
WINTER TOUR VIDEO
Early indications are
the five members of
Local Natives
pull together delicate harmonies with energetic guitars, drums and keys, to create songs that have both depth and subtlety. In this way, they sometimes sound like
Talking Heads
, whose classic "Warning Sign" the Natives recently covered, making it their own...

Critics around the country are getting excited about this band.
Don't miss out on the chance to stay ahead of the curve and advance your musical taste buds. Doors tonight at
TTs
are 8pm.
Along with Local Natives (who go on early at 9:45), you get also get special performances tonight from Whistlejacket, Voxhaul Broadcast and The Union Line - just $7
.
We'll see you there!