Details Emerge on Swan Lake's Enemy Mine (2009)
Canadian Indie Rock Supergroup Swan Lake returns for a sophomore effort in 2009!


All indications are that
Enemy Mine
, the followup to the band's majestic and weird
Beast Moans
(2006), will be in the hands of fans on March 24th. Neither the band or it's label,
Jagjaguwar
, will be offering tracks from Enemy Mine to the media until late February - presumably in an effort to keep a lid on the thing and to prevent leaks.
Swan Lake's new courtroom drama :: Enemy Mine
One thing's clear, the visionary minds behind Swan Lake haven't thrown in the creative towel.
Despite all their regular jobs,
Spencer Krug
(
Wolf Parade, Sunset Rubdown
),
Carey Mercer
(
Frog Eyes, Blackout Beach
) and
Dan Bejar
(
Destroyer, New Pornographers,
and
Hello Blue Roses
) found a divergent track on 2006's
Beast Moans
. It's completely reasonable to think they will hit gold on the forthcoming
Enemy Mine
, as well.
It is the band's contention that this is the first known use of a "court painting" as a record cover used in popular music. As a result of this enthusiasm, the band had planned on calling the album "Before the Law", a beloved Kafka parable and a reference to this court painting. However, the band is tired of being tagged as "literary", so they dubbed the record
Enemy Mine
, a beloved movie from Bejar's youth, and a good metaphor for collaboration.
Swan Lake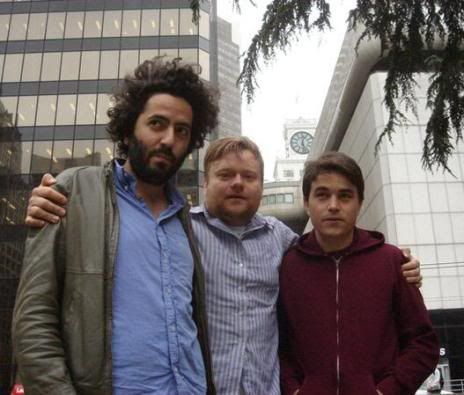 Three Kings: Bejar, Mercer and Krug
The real gift of having all three indie rock provocateurs working together and against one another is they are able to craft unique sonic landscapes - whole new worlds of imagination in the span of a single album. Let's hope that happens again, here. The band's
website
and
myspace
offer up no new information but we have the tracklisting for
Enemy Mine
and we will share that info with you today:
ENEMY MINE
(

3/24/09 release

)
Spanish Gold, 2044
Paper Lace
Heartswarm
Settle On Your Skin
Ballad Of A Swan Lake, Or, Daniel's Song
Peace
Spider
A Hand At Dusk
Warlock Psychologist
Previous Glory
For the uninitiated, here are two songs from 2006's
Beast Moans
. Good stuff!