Boston's Heavy Metal Sunday
Tonight at the Garden:
If you have ever appreciated guitar rock or heavy metal you will certainly appreciate Austin's
THE SWORD
. The band plays in front of the legendary
Metallica
tonight in Boston.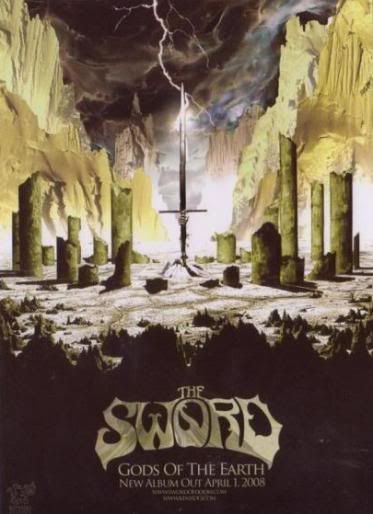 Getting to know THE SWORD:
One of the most fun releases of 2008 was born on April 1st and was with me throughout the year. Shock and surprise - it's a heavy metal album:
Gods of the Earth
(
Kemado Records
). A tremendous release simply packed full of simply wicked guitar!
A BAND ON THE RISE:
The Sword is one of the hardest rockin' bands going and the young four-piece has proven itself to be most skilled. Playing screaming guitar, powerful bass and pounding drums - the band finds some way to avoid the foolish grunting that characterizes "modern" metal. The Sword is a guitar cult and a refreshing throwback... In a single year, the band went from playing intimate clubs and small venues to jamming in front of thousands at the Bonneroo music festival in June. Now they are playing major venues in front of Metallica! Here's why: