The Jesse Malin interview
Certainly one of the most prolific and arguably one of the most gifted performers
of the last decade,
Jesse Malin
has made inroads to large audiences on both sides of the Atlantic these days. Malin favorably draws comparisons to some of the most gifted and honored musicians of our age. We sat for a while prior to Malin's latest Boston and appearance. Special thanks to Jen P for transcribing our dialog.
The topics of our discussion included Jesse's most recent albums:
2007's

Glitter in the Gutter
, and his two
2008 releases
: the live
Mercury Retrograde
and
On Your Sleeve
a covers collection. And, along the way, we tackled ideas of inspiration, songcraft, pop iconology, and Christmas. Jesse even hints about the direction of his new album (2009).
credit: Paul Storey
RYAN / RSL:
Hi Jesse, we cross paths again. Thanks for meeting with me... So I just want to kinda talk about what's going on with you. The new covers album, it's now available in the U.S. and in the U.K. What's this tour been like? Is it mostly covers?
JESSE MALIN:
It's a mix. We have three records out, we can do stuff from all three, plus covers makes it really fun. We always put covers in the set, in the encore. I like to take songs that are fast, like the Replacements
Bastards of Young
, and then make it like a ballad. Make it quiet. Show the audience, "I'm going to hop from an Elton John song to a Hold Steady song." So I've always done that. But now, there's a good part of covers, but it's not like we're going out and just doing a full covers set. I'm playing stuff from the first three, covers, some new material—because the next thing's going to be a new record, you know, which I'll do next year, which is what I'm really looking forward to.
RYAN:
I love the mix-tape feel of
On Your Sleeve
. I really enjoyed reading the liner notes about why you chose the songs. If I recall, your cover of Simon & Garfunkel's "
Me and Julio
," mentions your memories of drinking the stolen liquor from the sippy, the little apple pouches…
JESSE:
Oh yeah, (remembering) with the apple juice container.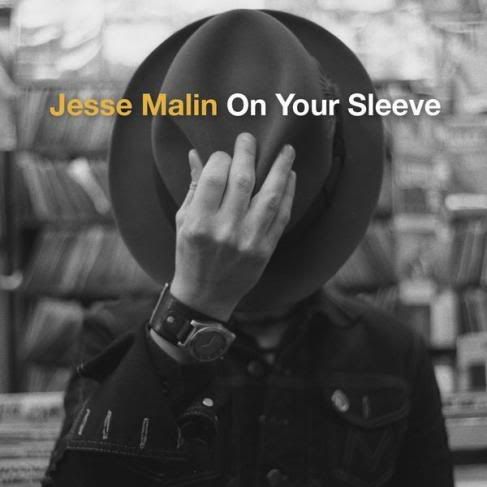 [
ALBUM REVIEW
]
RYAN:
I mentioned it in my album review... To me, (stories like that) are just very much fun and personal ... Highly Anecdotal. It makes the cover version your own in a small and human way.
JESSE:
I mean, it was a lot of fun doing the covers but that was just like a holiday. I've made jokes with the fans, "Yeah, I'm going to do a covers record," and then people kept emailing me. And it wasn't just B-sides or tribute tracks on an uncut sampler. It was like, "All right, I'm going to go make a record." So that was done real quick. I always tell people, it's like mix tapes. It's not like some concept, where It's the
Songs of Bob Seger Done by the Working Class Teamsters
. It really is just songs I like and it's schizophrenic as you'd make a mix tape for some friend or lover.
RYAN:
I noticed there was some reordering of the tracks with some new one's shuffled in from the UK Release of On Your Sleeve to the one that's available here in the states.
JESSE:
The European one, I had the sequence directed really fast. And when you've got a sequence up and it's not your own stuff to begin with, it's hard to find the arc. It's like, "Ok, where's the story to these other people's songs?" So when I had the American version, I had a chance to go back in and we did the Pogues' song; we did the Bad Brains and some others… It's a different version of the Hold Steady track. It's a different recording with the piano on it with Christine Smith. And the Tim Hardin song, which I did with Kevn Kinney, who's from Drivin' N Cryin' and now his solo stuff he plays a lot more. Kevn Kinney's from, well originally Milwaukee, but Atlanta—really talented songwriter. So it was fun doing that track with him.
RYAN:
I think there is something to be said for a singer-songwriter having fun, but paying homage to other great musicians. Doing this album really spoke to you then?
JESSE:
Yeah, I like songs. Whether it's a three-minute song, of any kind –Chuck Berry, or MGMT, or you know, whatever, the Dead Kennedys, or Woody Guthrie—it's really what you say, the melody and the attitude. I grew up with Cheap Trick and bands like that. The Clash and the Replacements. The Dickies. Bands that had balls and also were pop bands, but had intelligent lyrics that whether they were funny or thought provoking, they hit you somewhere. So yeah, it was just a chance to do something fun
RYAN:
Let's move on to
Mercury Retrograde
. It's a live record - and a real treat for people who enjoy your live performances. Very personal and easy-going...
JESSE:
The live record was a couple of nights we did last December, around Christmas time, in New York. Me and Christine had been out on kind of a stripped down tour with the piano, a lot more stories and acoustic guitar, and I figured, "Let's just record these and have different versions." The studio records are all bashed out with the band or more rocked up, and the songs on this one were kinda more how the songs were written, in the bedroom or the dressing room.
Recorded Live at the Mercury Lounge, NYC
[
ALBUM REVIEW
]
RYAN:
Performances with that Christmas feel, the special show you did for Mercury Retrograde recording, you have done that sort of thing before. If I remember correctly, you released some Christmas songs on an EP… with a Springsteen cover?
JESSE:
Yeah, we did Hungry Heart, which we did for Light of Day, Parkinson's Relief tribute album, and then there was the Christmas single we sent that around to radio stations with me with my cat and a Santa hat on.
RYAN:
One of the cool things I think about you as a performer is this tangible connection you seem to have with your fans around the holidays. And I don't think it's—and you can touch on this—it's not a biblical thing.
JESSE:
It's not religious thing, it's just a seasonal, romantic, when people can get together. There's a lot of expectation for that time of year and you look at the things that mean something to you, and you also look at the things you've lost and it's just an end, wind-up, reflection. I've always been big on romanticism and sentimentality in songs and movies, whether it's Casablanca or Miracle on 34th Street or "Jungleland" or "Here Comes a Regular." So, just that kind of thing—it's important to me.
RYAN:
Character and Culture are important to me too. I want to touch on that part or your persona. Your interests - whether they be movies, your favorite actors and in popular culture - they aren't always what people might expect. Your musical influences, we know, run the gamut, but some of the cultural things that you draw from are most unexpected.
JESSE:
Yeah, I grew up in the 70s. I was a kid, I was very young then, but that period of time in film, and in culture things were just a little bit different. Before AIDS and after Vietnam. The country going broke. New York was a mess. And I just think there was some kind of real excitement. Artwise, there are a lot of things that impacted me. Maybe it was just a time of coming of age.
RYAN:
That's great when you have that kind of rich and referential background. It allows you to connect to other people because you have shreds of the same past - something in common!
JESSE:
So when you find that out, and you're like, "I thought this guy came up with some original thing—this Einstein, with this genius idea!" And then they're like, "Oh shit, I've got this record!" And that makes you feel like, all right, it's not so bad. It's like Chuck Berry once said in that
Hail, Hail Rock n' Roll
movie: "There's nothing original under the sun. I took from Muddy Waters, I took from Louis Jordan, I took and I mixed it together and here it is." It's all in how you put it in the pot and spit out; mix it up in the pot.
RYAN:
That's great. What kind of stuff do you typically find yourself drawn to?
JESSE:
For now, there's a lot of great stuff I like. I love Wilco and Spoon. Like I said before, The Hold Steady. Just a lot of great stuff that continues to come out. Music's in a great place. The industry might be all fucked up and scrambled, but I still think people are creating great stuff. I like stuff that's really expressive and about freedom and individuality, and also characters that are on edge—that aren't afraid to go down with the boat. Like the character in
One Flew Over the Cuckcoo's Nest
. I always loved Tennessee Williams's novels and his plays, from Streetcar to Cat on a Hot Tin Roof. Things that are tragic but that have hope. Cassavettes movies—the band that's opening tonight,
Cassavettes
are their name—characters that are human and real, and even though there's so much darkness around, there's still some light at the end of that tunnel that keeps you going. "All right, well, we'll stick around for a while on this planet and make the best of it."
Editor's Note:
Boston's
Cassavettes
are an incredible band.
RYAN:
What direction are you headed in musically for this next record? (Due in 2009)
JESSE:
I don't want to layer the record with tons and tons of instruments. I want everything to have a space. I want to make a warm, honest record. I feel like I'm going back to zero—back to when I broke up
D Generation
. I feel like everything's really new, like I'm 15 and I'm really hungry and excited. Next year's going to be like, wipe everything off. Not a lot of shows. Make the record and go back. I want to make it with a small group of people—some of the guys I've been playing with in this band. I want a record that isn't…well, it's going to be different than the last three, but closer to my first record but maybe less roots-driven. It's not going to be a big rocker. But I say all this and I've written a lot of songs, but things will change. Sometimes you go into the studio and you bust out the bagpipes. I'm just excited to go in. I have a lot of songs ready, but I'm going to do a lot more writing. I'm going out not only with Butch Walker, but I'm leaving for Russia - for Moscow, with Gogol Bordello.
RYAN:
Wow, that's fantastic!
JESSE:
I'm doing a week of shows with them in Europe, and one of them includes Russia, which I've never been. I'm so psyched. Going to Russia with Russians! And hopefully their crowd will dig what I'm doing. But I'm doing that, and then a Parkinson's Light of Day tour with Mike Peterson, Neil Arm, and Willie Nile, with Badly Drawn Boy joining us in London. And then my own dates in the UK to represent the English
Mercury Retrograde
and then... I come home.
NEW YEARS CELEBRATION IN NEW YORK:
To celebrate New Years tonight, Jesse finds himself playing DJ tonight at NYC's Bowery Electric (327 Bowery and 2nd Street) In addition to Jesse's record collection, entertainment includes THE DICKIES and KITTY AND THE KOWALSKIS.