Guns N Roses Rumor - Two Year Tour Starting in March?
ALL THE NEWS:
Color us skeptical and, if nothing else, just a bit pragmatic... But the word that Axl Rose and company may be planning a huge WORLD TOUR beginning in March has us a little less than excited. Sure it would be fun to see the Axl of old prowl the stage under the pyrotechnics and guitar barrage we have grown accustomed to... But please, this is a guy who named his Chinese Democracy album in fifteen minutes and then it took him 15 years to release!
Science Put to Work: Explaining the Long Hiatus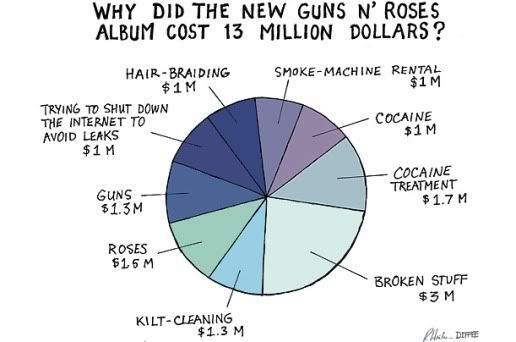 The rumors about the tour are pretty insane too! Guns' guitarist Richard Fortus told
Rolling Stone
that the tour would last "at least two years." The bigger the fish story, the better it seems for this band. I won't believe it until after we hear it from Axl himself. The pasty-skinned singer hasn't said a peep to the media in some time - preferring to communicate entirely though band chat rooms and through short statements post on the Guns' website.
If they mobilize Rose, anything is possible
. He is, after all, his own biggest fan and his own worst enemy. (
Check out the scienfitic chart!
)
More to you when we know more ourselves! But you better believe we ain't holding our breath until March....