Chuck on Axl's Chinese Democracy (Why We Like Klosterman)
ON REVIEW:
BragginBilly here, when I started blogging, I had a pretty clear idea of the feel I wanted to bring to my blog. My plan was that I would muddle along and things would pretty much happen or not... or maybe something in between. I like a lot of blogs, but it wasn't like I said, "I want to be like X"
ANYWAYS, I did happen upon
Chuck Klosterman
- though not a blogger, he captured much of the feel and direction I was going for. So, of course, I think he's brilliant. Some may consider him a bit verbose and some of his books utterly self obsessed. Isn't that what music is all about? Their maniacal rock egos and our own blind dedication and devotion combine to make us what we are? Is that not what being a fan of music is all about?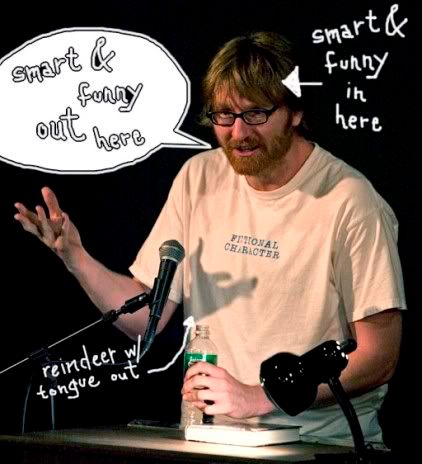 Chuck Klosterman
I won't go on too long or dwell on the personal implications of Chuck
, but, I want to share with everyone a brilliant review that he wrote of
Guns and Roses
, to be released album "
Chinese Democracy
" (It goes on sale tomorrow and only at Best Buy stores.
Are you serious
?)
What did Chuck think of Axl's Masterpiece?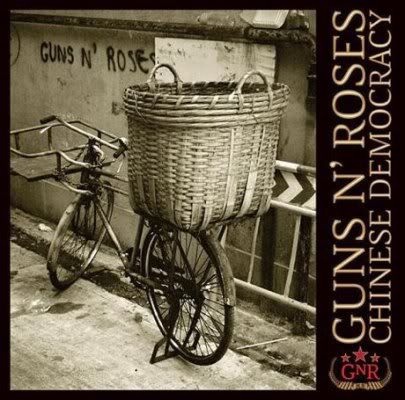 "
Reviewing Chinese Democracy is not like reviewing music.
It's more like reviewing a unicorn.
Should I primarily be blown away that it exists at all? Am I supposed to compare it to conventional horses? To a rhinoceros? Does its pre-existing mythology impact its actual value, or must it be examined inside a cultural vacuum, as if this creature is no more (or less) special than the remainder of the animal kingdom?"
Klosterman continues:
"I've been thinking about this record for 15 years; during that span, I've thought about this record more than I've thought about China, and maybe as much as I've thought about the principles of democracy. This is a little like when that grizzly bear finally ate Timothy Treadwell: Intellectually, he always knew it was coming. He had to. His very existence was built around that conclusion. But you still can't psychologically prepare for the bear who eats you alive, particularly if the bear wears cornrows."
Breaking it Down:
Let's be honest, these are odd days for music. Not only do we have resurrection albums from the likes of ACDC, Night Ranger and Guns N' Roses; (even Michael Jackson is rumored to be working on a new project!) Barring these often unwanted and wholly unnecessary comeback projects, Music is more popular than ever -but- less of it is being purchased - at least in album form and certainly not in the numbers they once did in retail stores. Still the industry resist the absolute need to change at its own peril. Those who promote music projects (blogs like us for instance), are persecuted and chased at each and every turn. I believe the bottom line is that the big labels are simply afraid of what is to come and they dread losing control over something that has long since been lost. The horse as they say, has left the barn.
Returning back to the Guns album:
Axl Rose's new masterpiece, some 15 years in the making, isn't an album - it's a statement about our culture and of the state of rock. It's the labels not wanting to admit that they made a two-decade long mistake (think of all the cash advances made to Rose during that time period.... It boggles the mind.) People like Klosterman are calling them out.
Another example:
Letterman could have had Axl on his show this week, but instead of Guns N' Roses, he opted instead for
Mr. Brownstone
(GNR cover band - for the show's cover band week. Funny thing is, Mr Brownstone sounds more like Axl than the singer does himself these days....) Check out this tour poster from 2002 (yes, it was named the "Chinese Democracy tour" some six full years before the album came out....)
We hear you Chuck, we hear you.
Klosterman is recommended reading:
I hope you enjoy and I highly encourage you to pick up "
Killing Yourself to Live
" - which we promoted and used to carve a path through a review we did on
About A Son
- a biopic film about Nirvana's Kurt Cobain. (
recommended reading
)
Also check out Klosterman's:
"
Sex, Drugs & Coco Puffs: A Low Culture Manifesto
" or any of his others. "
Downtown Owl
" is his new one and its pretty good too. However, its a novel and not a a meandering discussion of music and pop culture, which is the stuff I love.