Joel Plaskett Emergency - Ashtray Rock
Just a quick one today, we're running late.....
We are unadulterated
Joel Plaskett Emergency
fans and we think we should share the little rock band from Nova Scotia' s music with our readers at every turn. The Emergency are electric balladeers, live rock cowboys, soul stirrers, and just plain good... Now you can find out for yourself as the hard-to-find music from the band has never been easier to get a hold of!
Now Available!
Primarily, we are hooked on the Emergency songs from 2007's stellar
Ashtray Rock
. The record is probably one of the best released from the last two years (it even slipped under
our radar
when it first came out due to the fact it's an import-only product.)
Fortunately for all of you readers, the songs are available for download as mp3s and JPE just arranged a deal with
Maple Music
to distribute Ashtray Rock to ya'all. I know you're feeling it!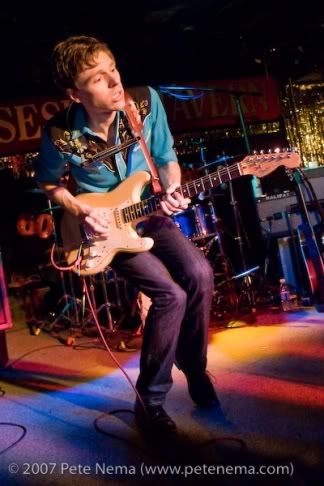 Joel Plaskett Emergency pics by Pete Nema
Great Set of Photos - Toronto 12/11/07