James Taylor - Covers
New Collection of Covers from one our Favorite Storytellers
On "

Covers

" we hear the storytelling soul of James Taylor re-emerge
as he covers an exceptional collection of songs from notable recording artists from the Fifties, Sixties and Seventies. Taylor does everything right here - continuing the success of last year's
One Man Band
project. While following song format on
"Covers,"
the artist continues to make enjoyable music on his own terms.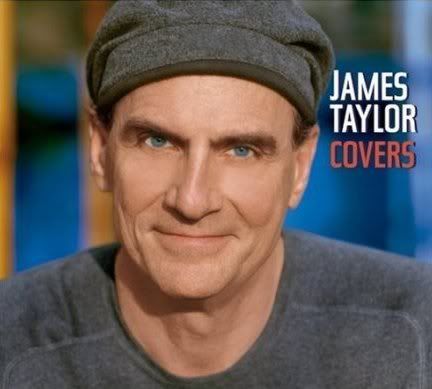 Now in Stores
Here, Taylor chooses his songs well.
There's a good sampling of popular favorites of note and some "new" classics. Taylor plays to his strength - that beautiful voice and his ability to assemble great musicians around him to help bring it all home. The album was recorded last January when James Taylor gathered his 'Band of Legends' for a rare 10-day recording session in a converted barn on his property in western Massachusetts.
Band arrangements of material on the album include covers of Big Mama Thornton's version of "
Hound Dog
," Junior Walker's
"(I'm A) Road Runner
" and "
Wichita Lineman
," (one of the most revered country songs penned by Jimmy Webb). These songs were improvised on the spot and recorded live with some of the best players in popular music. A great center photo layout in the liner notes credits each musician. This one's an absolute must-have for James Taylor fanatics and a definite good buy for those who love nostalgic and easy-going favorites.
Sadly, they don't make music like this anymore.
Tracklist:
"It's Growing"
by William Robinson, Jr. and Warren Moore
(made popular by The Temptations)
"(I'm A) Road Runner"
by Edward Holland Jr., Lamont Dozier and Brian Holland
(made popular by Jr. Walker & the All Stars)
"Wichita Lineman"
by Jimmy Webb
(made popular by Glen Campbell)
"Why Baby Why"
by Darrell Edwards and George Jones
"Some Days You Gotta Dance"
by Troy Johnson and Marshall Morgan
(made popular by the Dixie Chicks)
"Seminole Wind"
by John Anderson
"Suzanne"
by Leonard Cohen
"Hound Dog"
by Jerry Leiber and Mike Stoller
(Big Mama Thornton inspired arrangement)
"Sadie"
by Joseph Jefferson, Charles Simmons and Bruce Hawes
(made popular by The Spinners)
"On Broadway"
by Jerry Leiber, Mike Stoller, Cynthia Weil and Barry Mann
(made popular by The Drifters)
"Summertime Blues"
by Eddie Cochran and Jerry Capehart
"Not Fade Away"
by Norman Petty and Buddy Holly