Dead Confederate
The Headliner for tonight's big show at
TT the Bears
in Cambridge is the seriously amazing
Catfish Haven
, but it's the inclusion of
the stellar

Dead Confederate
that has us the most excited. The Georgia rockers have an important new album called "Wrecking Ball" that's being talked about in blogs and coffee shops from Los Angeles to Boston. (
Hell
, we even read about this band this year in Rolling Stone magazine- how often do they get things right these days?)
One of the Hottest Bands in America: DEAD CONFEDERATE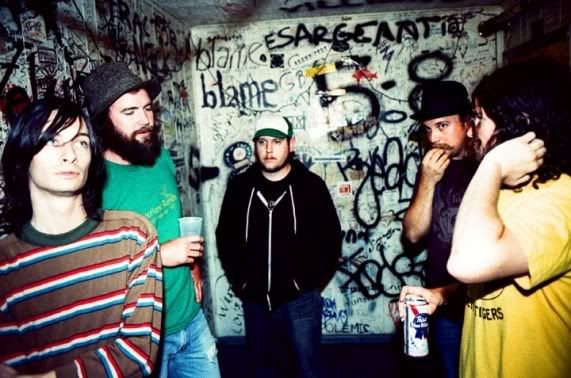 Dead Confederate took their patented hard-rocking, southern sound and headed west to Austin last year to cut the "
Wrecking Ball
" album. (Pick this one up at the show tonight, order it online or find it at fine music stores now.) The guys from the band recorded this dark, raw album in the tiny concrete-walled studio where the sound effects for The Texas Chainsaw Massacre were recorded. Do ghosts exist on audio?
Dead Confederate —
singer/guitarist Hardy Morris, bassist Brantley Senn, guitarist Walker Howle, keyboardist John Watkins, and drummer Jason Scarboro — first bonded over Pink Floyd and Black Sabbath ("stoner shit," as Morris puts it) when they attended high school together in Augusta, Georgia. After keeping a band loosely together throughout college, the five-piece got serious when they were faced with the prospect of finding careers outside of music. After the small-town crew moved to Atlanta, "We were all kind of huddled together in this little house in the big city," Morris recalls, "Things took a turn and Brantley and I started writing serious personal stuff. We weren't just playing anymore, we were really writing and searching." Dead Confederate was born.
Now that you have a taste of "

Wrecking Ball

"
- we can return to talking about tonight's show. An utterly
unbelievable lineup
awaits. Not only will tonight's show feature
Catfish Haven
and
Dead Confederate
. Two highly talented Boston bands also entertain mightily:
Mean Creek
(on tour with the two headliners and have 3 more shows on this leg of the tour) and RSL Favorite
The Motion Sick
. Both of these Boston bands should motivate you to get to the doors early. Don't miss a single note on what could prove to be one of Boston's best shows of the year. Get there early to avoid getting shut out. We'll see you tonight.