Brett Dennen - Hope for the Hopeless
Artist on the Move!

Pop Singer and Folk Artist Brett Dennen
NEW ALBUM:
It seems like just yesterday that Brett released 2006's
So Much More
, but it's already been two years during which time the artist (who turns 29 years-old in six days) toured extensively and worked on an album's worth of new material. Dennon just released
Hope for the Hopeless
, a highly recommended LP with exciting new material. You can buy it in stores everywhere. We love the romantic-lament track,
"Ain't No Reason."
You will too.
A lot of good things have happened for Dennen
this last year. A year ago, Rolling Stone named Dennen one of it's Artists to Watch *(We don't want to give RS too much credit - but they do get three or four of these picks right every year and in Dennen's case they were definitely right!) Entertainment Weekly told its readers that Dennen was one of eight emerging singer-songwriters to look into... His songs are all over popular television shows (
House, Grey's Anatomy, The Unit,
and
Scrubs
- along with a few other spot appearances.) These exposure opportunities have led directly to sales.
Dennen has also done some pretty cool collaborations and tours
... which leads us to today's sample.
"Make You Crazy,"
a single he cut with super-talented Nigerian musician Femi Kuti
, was offered as a single on i-tunes but has been offered up free widely through blogs and most recently
through Spinner
these days in promotion of Dennen's new
Hope for the Hopeless
album. As it appears the coast is clear to finally share it with you, so long as I promote Dennen's exciting new record and tour;
here it is
: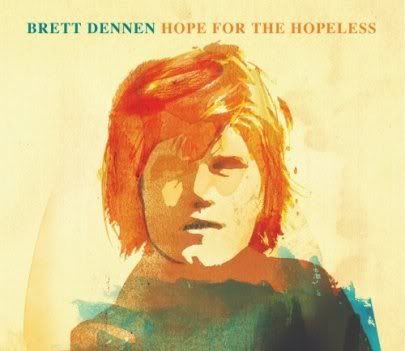 Brett Dennen dates:
Oct 24 - Long Beach, CA
Fingerprints In-Store
Oct 25 - San Luis Obispo, CA
48 Straight Mtn. Bike Series @ The Madonna Inn
Oct 31 - Honolulu, HI
Hallowbaloo
Nov 3- Portland, OR
Doug Fir
Nov 5 - Seattle, WA
Triple Door
Nov 6 - San Francisco, CA
The Independent
Nov 7 - Los Angeles, CA
Hotel Cafe
Nov 8 - Los Angeles, CA
Hotel Cafe
Nov 10 - Denver, CO
Twist and Shout In-Store
Nov 10 - Denver, CO
The Walnut Room
Nov 11 - Austin, TX
Waterloo In-Store
Nov 11 - Austin, TX
Continental Club
Nov 13 - Chicago, IL
Schubas
Nov 14 - Baltimore, MD
Rams Head
Nov 15 - Philadelphia, PA
Tin Angel
Nov 16 - Boston, MA
Club Passim
Nov 18 - NYC
Canal Room
Dec 30 - Brooklyn, NYC
Music Hall of Williamsburg w/
Matisyahu