Billy Bragg - One Fan's Perspective
2 NIGHTS This Week IN BOSTON:
BragginBilly here, as you can imagine I'm pretty excited that the inspiration for my nom de blog (
now you know!
)
Bragg will be playing two Highly Recommended intimate shows this week at

The Somerville Theater

(tonight and tomorrow, October 22nd.)
Its been a few years and I can't wait until the show.
One of Our Favorites, the Enigmatic Billy Bragg:
Billy Bragg was once described to me as a modern electric folk singer. I think that's a pretty apt description. Many of his songs (all of his early work) is him and an electric guitar with a style that blended folk and punk. Probably the reason he's the only folks singer my punk or hard-core pals love. Eventually he started playing with a full band, but his music hasn't lost that charming original character.
My discovery of Billy Bragg
came back in high school when I heard a five-second clip of his song a "A New England" used in commercial for some bar. I called the station and talked with the DJ who finally told me who is was (after getting me to sing the line a couple times...ahh the powers of a DJ). I ran out and bought
Back to Basics
, which has been a constant companion.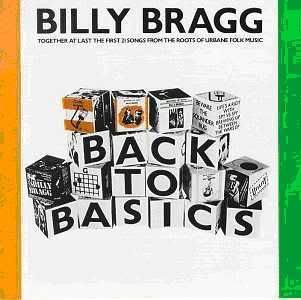 Two Creative Buckets:
Bragg's songs are split into basically two buckets, politics and sentimental love-story songs. I call them love-story songs because like all folks singers, he's first and foremost a story teller. His lyrics may speak to his feelings, but they really focus on describing a moment in time. In a different way his political songs do as well. References to wars and political leaders have changed over the years to reflect the times.
PROJECTS:
Many folks in the indie scene were introduced to Billy when he teamed up with
Wilco
on
Mermaid Avenue
. This was one of two albums of
Woodie Guthrie
lyrics that they put to music. The papers had been kept by his daughter Nora Guthrie and Woody had only written little notes describing the style of music, but had never completed the songs.
A CAREER IN MUSIC:
I don't know if he'll ever be recognized as such, but I consider him one of the seminal artists of the last 20 years. His politics have made him a divisive figure to some critics, but overall he has continually been a voice for fairness. There have been a couple
Billy Bragg
collections
that have come out over the last few years, some have extras such as the two-part series. The other,
Must I Paint You a Picture
, is more of an overview, but not a bad place to start. I hope you dig.