Static of the Gods - Brand New Demo! - "True North"
WORLD PREMIERE MUSIC
Celebrating the Static of the Gods 2008 National Tour
A brand new demo available exclusively on Ryan's Smashing Life!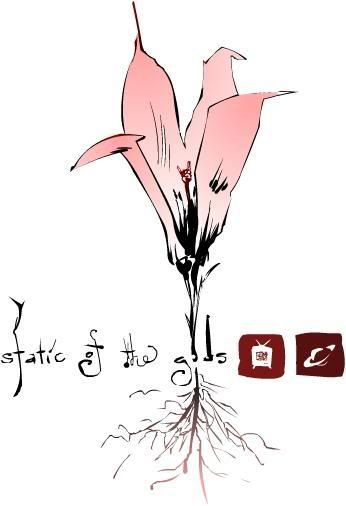 band artwork by Morgan Sheffield
The City's own

Static of the Gods
headline the
RSL Music Blog live showcase at the Middle East in Cambridge tomorrow night
.
Our sixth live showcase of the year will serve as the launching pad for the band's 2008 National Tour.
Along with some old favorites, fans on this tour can expect to hear all kinds of new songs from the forthcoming full-length Static of the Gods record.
WORLD PREMIERE - "TRUE NORTH"
You can't get this single anywhere - but here - right now.
STATIC OF THE GODS
From Left:

Mike Latulippe, Ben Voskeritchian and Jen Johnson
LIVE this MONTH:
Tomorrow Night - 9/25/08 - National Tour Kickoff
Ryan's Smashing Life Showcase - The Middle East
with
Jacksonknife from NYC
Eldridge Rodriguez - Boston
Child Bite - Detroit
special guest appearance by
Boston's Tyler Derryberry
Cambridge, MA - 8:45pm
Sept 30 - Austin, TX
The Beauty Bar
Oct 1 - Lubbock, TX
The Bright House
Oct 4 - Eureka, CA
Little Red Lion
Oct 5 - Portland, OR
The Towne Lounge
Oct 6 - Denver, CO
The Hi-Dive
Oct 9 - San Diego, CA
The Beauty Bar - San Diego
Oct 12 - Phoenix, AZ
The Ruby Room
Oct 14 - Lincoln, NE
Box Awesome
Oct 15 - Indianapolis, IN
The Melody Inn
Oct 17 - Nashville, TN
The Music City Bar
Oct 18 - Richmond, VA
The Camel