Mason Proper unleashes the Fall's First Must-Have Record
A Stellar Album, In Stores Today!
OLLY OXEN FREE is a Record of the Year Candidate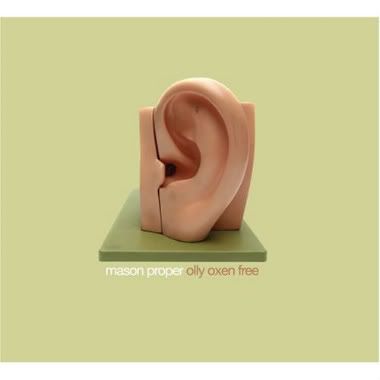 Remarkable Sounds and High Achievement
Stellar Sophomore Effort from Jonathan Visger and Mason Proper
EXPECTATIONS & REWARDS:
We were expecting good things from Michigan's Mason Proper this year. The band's 2007 debut
There Is a Moth in Your Chest
was very good (RSL Top 40 Albums of the Year, 2007) and the release of the band's
Shorthand EP
this Spring boded very well.... But we were overwhelmed by what we heard from the Jonathan Visger and the rest of Mason Proper (Zac Fineberg, Garrett Jones, Brian Konicek, and Matt Thomson) on the band's new full length LP,
Olly Oxen Free
(in stores today).
Suffice it to say, this one hits on all cylinders and Visger has crafted an album that plays like a collection of stories with ten individual tales within. Each track draws influences from the far reaches of music-dom.
This is the first absolutely must-have record to be released this fall season!
MASON PROPER
People are Listening.
Run Out and buy the new record. Press Play.
On
Olly Oxen Free

,
we heard elements of David Bowie, The Flaming Lips, Brian Wilson, The New Pornographers, Of Montreal and - really so many more... This is a record made by people who like good music... Where the record succeeds is really where modern popular music does. And while influenced and steeled by their music passions, Mason Proper has crafted a "Smart Rock" album that is far from derivative.
The Ears, The Heart and The Mind.
The tracks on the record begin internally - and grow stronger with each successive heart beat. We aren't quite sure yet if we are in Visger's head or if he's in ours - but this record manages to enthrall on a very basic level. "
Safe for the Time Being
" is the best example of this as, Visger seems to be talking directly to us at the start.... "Ohhhh My God....." He says and we are in the moment. The band soon joins in and the song opens up like an envelope.
As I indicated before, each track on
Olly Oxen Free
is its own animal and distinct in nature. On
"Out Dragging the River"
the track begins with a single note repeated on a piano.
"Fog,"
one of our favorites, begins with a rumble. We can literally feel the confusion and feelings of loss rolling in.
Amidst the careful production and all that effort, there is something very playful and fun about these songs. Mason Proper laments the loss of childhood's simplicity while still crafting a track that lives in that world with
"Point A to Point B."
The song is a clever juxtaposition of simplicity, intent and angst. Like the rest of the album, this track works on more than one level. The protagonist here tries to come to terms with his adult problems in light of the adult reality - the daily grind.
Pick up the album
.
RSL Record Grade: 4.5 of 5.0 Stars
The First Single:
LIVE APPEARANCES...
September 25th - Ann Arbor, MI
The Blind Pig - CD Release Party
October 21st - New York, NY
Rehab - Dovecote Records CMJ Showcase
October 31st - Mt. Pleasant, MI
Rubbles Bar - w/ Those Transatlantics
November 1st - East Lansing, MI
at Small Planet
November 10th - Washington, DC
The Black Cat - w/ Cloud Cult
November 11th - New York, NY
Bowery Ballroom - w/ Cloud Cult
November 12th - Danbury, CT
Heirloom Arts Theater - w/ Cloud Cult
November 13th - Cambridge, MA
At the Middle East - w/ Cloud Cult
November 15th - Rochester, NY
At the Bug Jar