Best of 2008: BLACK MOUNTAIN
THE BEST of 2008

(so far!)

SERIES :
How smokin' hot is Canada's
Black Mountain
? The indie rock band starring Stephen McBean, Amber Webber, Matt Camirand, Jeremy Schmidt and Joshua Wells, have a silly good new album "In the Future" in stores now. It's the band's second full-length LP since 2005's self-titled "Black Mountain" release (also on the
Jagjaguwar
label.)
In the Future
has all the hard rock and electric guitar elements required for those who enjoy life on the edge, but the band has earned the "best of" label for their creative songwriting. We love the counter bass-lines and harmonies which can lend one to lose their mind while listening to this record. Definitely a great one to check out here in '08!
(
The Best of the First Half 2008 List
is coming - but here are some of the records we have told you made the list in recent days:
album,
album
,
album
,
album
,
album
,
album
, and
album
. Think of it as a shopping list of contemporary good taste and this list will continue to grow until it needs to - you can check out 2007's Hot List for the First Half,
here
.)
What is Black Mountain? A trudging guitar band, the resurrection of old school rock psychedelia with elements of post-modern progressive rock - and lots of volume. This is one great listen! British Columbia's
BLACK MOUNTAIN:
.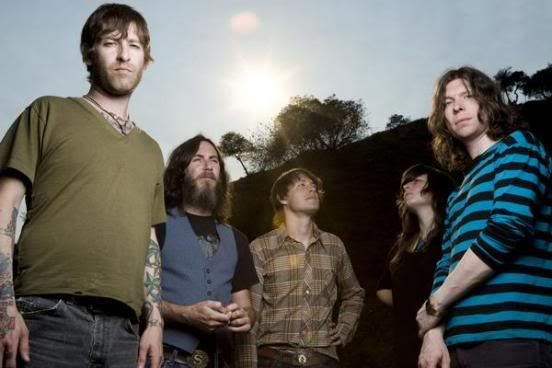 BLACK MOUNTAIN
VIDEO:

"Set Us Free"
About this video:
B&W Super-8 music film recorded in Vancouver by Lyndsay Sung