Apollo Sunshine - Shall Noise Upon
Space Rock and Strutting Guitar:

We Like this one a lot....
NEW RELEASE - Now on CD:
Massachusetts's own
Apollo Sunshine
have a cool new CD for us to share with you.
Shall Noise Upon
has been available in vinyl format (with mp3 download) for a couple weeks now but was just made available on CD last week. The indie space-rockers have an impressive pop-tastic sound that we love to see live.
Meet the family:
Apollo Sunshine is a creative Jam Band that met a sexy guitar band and made lots of Psychedelic babies. (Were pretty sure they were listening to funky good radio in the late Seventies when it all happened.) Somehow this talented, but most different, of bands has managed to survive the record industry's pack philosophies and the sometimes doubting public ear. We welcome
Shall Noise Upon
into the diverse mix of great 2008 albums. Apollo Sunshine are making real music and taking exciting chances in their songs. We are won over.
Massachusetts fish story: Apollo Sunshine

is

the real deal.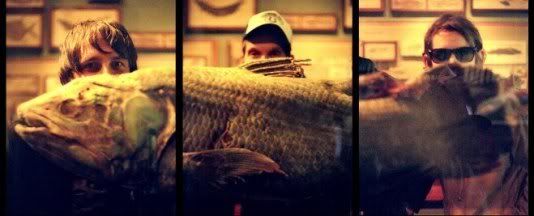 Two Songs from the New Album (
in stores now!
)
Dates This Month
Sept 13th - FREE SHOW
Newbury Comics in Harvard Square
Cambridge, Massachusetts
Sept 14th - FREE SHOW
Sound Fix (Acoustic In-Store)
Brooklyn, New York
Sept 15th & 16th
Monkey Town -
Brooklyn, New York
Sept 19th
Andover Town Hall -
Andover, MA
Sept 22nd
GTFU RADIO /// live video broadcast
Los Angeles, CA
Sept 26th
Spaceland -
Los Angeles, CA