Supergrass - Diamond Hoo Ha
We sorely underestimated how much we were gonna love this one!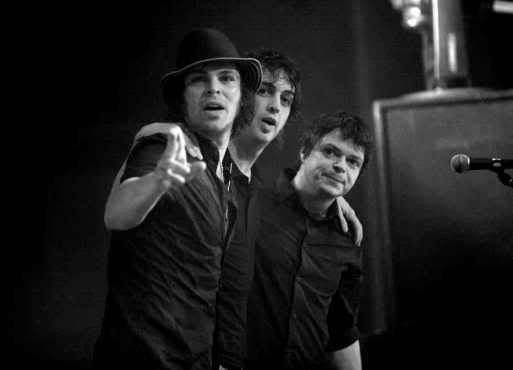 SUPERGRASS
The Best of What's To Come:
It's right about this time each year that the RSL starts thinking about our best of list for the first half of the year. (Here's the
First Half List from 2007
.) In doing so we often, inevitably step on some toes and make some interesting and bold statements about the state of music.
Regular readers know that our lists at the RSL are always refreshing escapes from the norm. (Don't expect a retread of what you will see in the big music magazines or even in the Music Blogs of note. Printing the same list as everyone else just isn't accurate (we all don't really like ALL the same things) and it smacks of pandering and retrograde through "overt trendiness." Ultimately.... Our lists are different and that serves you (our readers) the best.


One of the Best Releases So Far this Year
The best part of the lists is that we get to talk about albums that came out of nowhere and really impressed us.
Case in point is today's entry: Diamond Hoo Ha, the sixth studio album from Oxford, UK's Supergrass
.
The band (Gaz Coombes - Guitar and vocals, brother Rob Coombes on keys, Danny Goffey on drums and Mick Quinn on bass guitar and vocals) have such a strong, unabashed appreciation (fearless) of good seventies rock (the songs "
Diamond Hoo Ha
" and "
Rebel in You
" for instance) and then take that sound to new and most unexpected heights ("
When I Needed You
", "
Ghost of a Friend
" and "
Butterfly
.") This is a very well rounded album.
At it's start, Diamond Hoo Ha has got just about all the same elements that last year's White Stripes album had - and everything works here too (
as it did with Jack and Meg's album
.) Perhaps the only element different between the Icky Thump and Diamond Hoo Ha is that the Supergrass record (with but one or two exceptions) is more expansive and experimental. (Ending the comparisons to the Stripes here, I meant the comparison to merely serve as a compliment. While both projects are rock based and rely heavily on their guitars - they are two very different animals.) I daresay, this one from Supergrass is pretty brilliant.
One can't help but listen to an album like Diamond Hoo Ha, and love the fact that great rock music exists even while the rest of the world is doing something else (and often not as well.)
The bottom line... I knew I would be giving Diamond Hoo Ha a listen, but didn't expect to love it anywhere near as much as I have. Expect to see this album in the upcoming Best of 2008 So Far posting... (don't miss this one!) and do your best to find this in your music collection. I don't think you will be disappointed. Supergrass grows on you very fast!