REVIEW: The Verve - Forth
The return of Richard Ashcroft and The Verve

Forth is the Album 11 Years in the Making
The Verve's new album is titled Forth
- it's a great listen for your country drive or a quality backdrop for your quiet dinner and a glass of wine. The title of this one is a total play on words as the new record is the band's first step back into the global spotlight and, at the same time, the band's fourth record.
The parallels don't end there
. The cover for Forth depicts beautiful golden clouds matching much of the record's atmospheric space-rock feel. The record dances on the fine line between mood music, ambient retro-shoegaze, modern progressive and modern rock. One listen of Forth set us down a most interesting path...
The Verve is reborn
, with "
Sit & Wonder
" - the magical first track on Forth. This track, an interesting leader on the album as it stretches to nearly 7 minutes in length, contains elements of both the band's past and future. We are reminded immediately of the band's ability to transport us a million miles away. "
Valium Skies
" is a beautiful and smooth pillow of air - helping us bridge the gap to the past. We are drifting.... swimming through golden skies.
RSL Record Review: 3.75 Stars of 5.0 Stars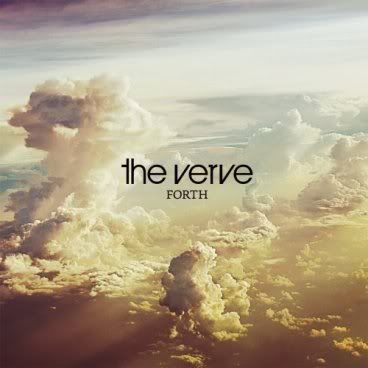 Our immediate favorite
is
"Rather Be"
offering
a conversational and confident Ashcroft
in front of smooth
hooks that would make Mick Jagger jealous
. The rise and fall of these notes sound like the footsteps it took to reach this place - for the Verve to make this album. It's a reassurance of sorts - making us feel better about being ourselves. This one's a gem.
Many of the tracks on Forth have lengthy lead-ins on the album, perhaps protecting the listener from the jolt of this album's disjointed tracks. It has been 11 years since Urban Hymns (which reached #1 in the UK) and it's only reasonable to expect to kick up some dust.
The one X-factor on the Forth record is Ashcroft himself.
A master of mood, Ashcroft does little in particular on this album to differentiate himself from another instrument effect... (We would like to see the singer open it up and prove out his reputation for strong voice. There's a lot here to love, but the singer leans a little too heavily, for our taste, on vocal reverb effects.) This one detractor cannot do much to harm this otherwise great return effort from the Verve. We recommend you check this one out with a bottle of red.