An African Tribute to James Brown at the MFA Boston
A Funked Out Season Finale:
BragginBilly here, can't believe the summer is fading up already. Last Wednesday the Museum of Fine Arts wrapped up the
Concerts in the Courtyard Series
. It was a tough year weather-wise, (most of the shows ended up being moved inside) but a great one for music. Kudos to organizers Brendon Downey and Dan Hirsch for putting it all together and bringing Boston some amazing acts here in '08.
Senegal's Cheikh Lo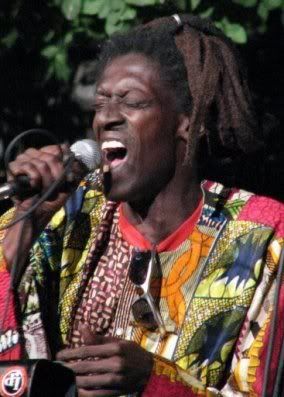 Fred Wesley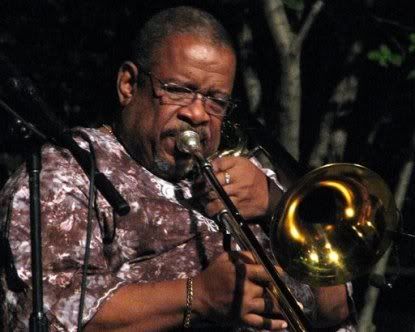 Fred Wesley played with James Brown, Ray Charles & Van Morrison
Pee Wee Ellis
Ellis played with James Brown & Van Morrison!
Vieux Farka Toure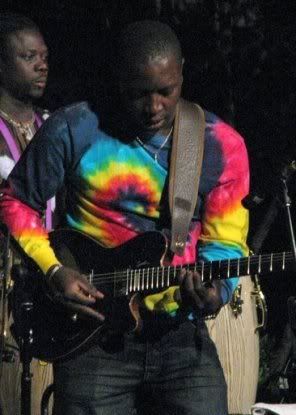 Malian singer/guitarist
WHAT A YEAR! -
The season opened up with
Jose Gonzalez
(see
previous post
) and along the way you had greats such as
Beth Orton
,
Grizzly Bear
,
Grupo Fantasma
, and if you were quick, you got to catch
Bon Iver
as well.
Vetiver and Phosphorescent
were remarkable - seriously, the subtle and yet stunning Vetiver set may have been one of the best Boston shows of the year! Phosphorescent got lost in traffic but showed up late to put on a great show! (A side note to Phosphorescent's centerpiece: Matthew Houck, please turn towards the crowd when you do a guitar solo - the audience want to see you play!)
It was an entertaining show and a great time for everyone there. Much dancing was done by young and surprisingly old alike. I'm looking forward to next year and I hope they can keep it going. There's no such thing as too many good music venues. The MFA has been one of the best in town this year!