Cody ChesnuTT - The Seed
HOT SAUCE:
Dipping Into The Archives
Dynamic and powered by old-school soul, dirty fuzz guitar rock and a passion for divinity through music...
is modern American legend Cody ChesnuTT. While still not known to the general public - he is a favorite of many contemporary musicians and a source of inspiration.
Cody ChesnuTT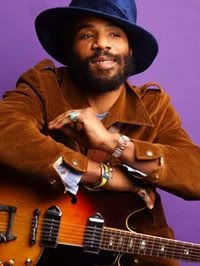 - The great Cody ChesnuTT -


In 2002, Chesnutt released a highly recommended double-length LP called "The Headphone Masterpiece." While the record received little promotion and hype and was consequently not well received by the general public - the music world was listening. Later that year,
The Roots
remade ChesnuTT's song, "
The Seed
," *(with CC appearing on the recording) and his genius was thrust before a new generation and audience of listeners. Chesnutt's last major public music appearance was in David Chapelle's documentary: "
Block Party
."
In 2006, Chesnutt released a group of stories in song called, "
The Live Release
." He remains unsigned to any music label.

HIGHLY RECOMMENDED
A resident of the south (at times taking up residence in Georgia and Florida) and raised of Jamaican parents, ChesnuTT is a mish-mash of musical and cultural influences. That background lives large in his recorded performances. A soldier standing on the frontiers of soul, funk, African beats, guitar rock and gospel - Chesnutt is his own man. Truly exciting stuff!