The Influential Voice of Women - Nina Simone v Amy Winehouse
A BLOG FLASHBACK:
One year ago this month I listened to a mix randomly selected from my laptop and on that day the Gods of Fate laid these two tracks back to back. I enjoyed both songs and have been thinking of this comparison ever since.
Ladies and Gentlemen, I give you Nina Simone and Amy Winehouse. Listen to both of these tracks... They're both sensational, and tell me it was a mistake! Sometimes music and life can prove to be even more beautiful than we believe they can be!
Nina Simone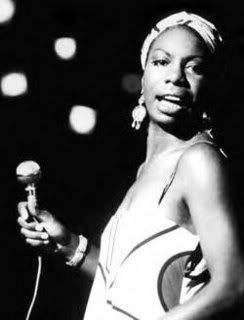 Amy Winehouse
And then there's reality to prove me wrong.....
Of course, Amy Winehouse is back in the news
again
this week - but,
again
and
again
, for the wrong reasons.
An exclusive interview
in Rolling Stone magazine has revealed more about her drug-related medical problems. As before, Amy just keeps-on-a-truckin'... Winehouse is set to perform at
Nelson Mandela's 90th birthday party
. Celebrating the life of a good man - that's the first thing on this list that Nina Simone would probably do were she alive.