Indie Rock Blowout at the Middle East
Next Tuesday:

4 Hot Bands


Rock the City's Best Live Venue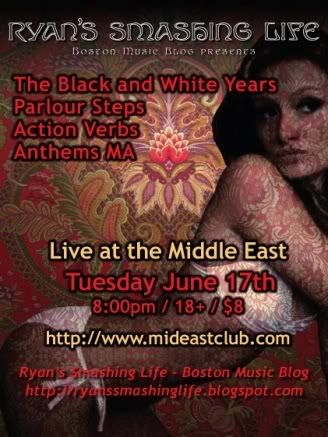 The second RSL Live Showcases of 2008: (There will be
Blog Music Parties
all over the city this summer.)
I bring in great talent and offer opportunities to top new talent.

You are invited!

It's a beautiful thing.
The talent showcased at the Middle East next Tuesday (6/17) is just incredible. Here are some bios and mp3s for each of the bands. Think of it as a sneak peak for one of the best shows in Boston this summer.
This is where you should be on Tuesday night:
Austin's THE BLACK and WHITE YEARS
Scott Butler
photograph by Alexa Jones (Spin)
Having made their name through back-to-back SxSW blowouts, a well-received life performance at New York's CMJ Music Festival and a landmark performance in Europe's MIDEM music festival - The Black and White Years are a live music force to be reckoned with. They have already toured sold out shows this year with
The Presidents of The USA
.
On Tuesday they will be playing in Boston for the first time ever!
From Vancouver, it's PARLOUR STEPS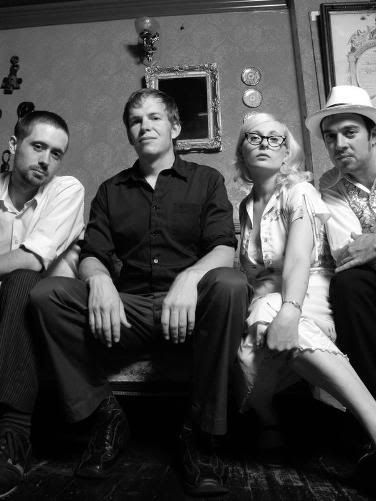 It was the addition of
Vancouver, British Columbia's Parlour Steps
that took this live show from very damn good to plain sensational. If this group were playing in the states they would have been absolutely huge long ago.
Parlour steps just released Ambiguoso
-
a masterful new album
that you should check out. One listen to this band's brand of witty indie rock, or "
thought rock
", and you will be won over. I was! Do not miss this very rare appearance in Boston on Tuesday night!
Boston indie rock: ACTION VERBS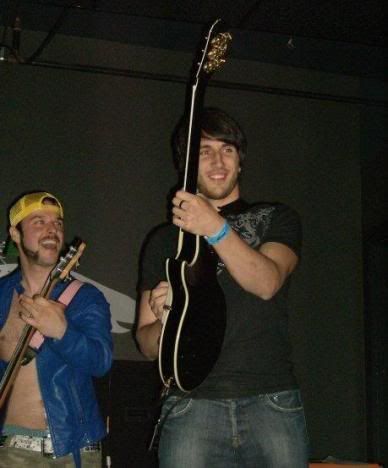 Action Verbs have (

somewhat

) quietly become one of the most promising bands in the city
and I figured it was about time that everybody knew how good they are. There's a lot to like in their compositions. Competent and increasingly tight, they bring a crazy energy to a stage. (
Hence the name?
)
Action Verbs were an obvious choice
to play one of the RSL shows this summer. I expect they will leave the stage next Tuesday night with a slew of new friends.
A CRAIGSLIST BAND??
-
In their own words:
"We like to refer to Action Verbs as a craigslist love story. Once upon a time, Mike needed someone to sing on his album, because his singing makes birds attack humans. So Mike put out a craigslist ad for a singer. The second person to respond happened to be none other than current Action Verb-er Joe.
After finishing the album, Joe and Mike thought it would be a good idea to start a full fledged band. So what did they do? That's right, they posted and ad on craigslist for a drummer and bass player. The bass player they found was a 19 year old Jacob. Sure he played guitar in his other band, but he thought it would be fun, so he signed on. Then he turned out to be our second guitarist. Life's funny like that.
The band would go through two more drummers (both found on craigslist) before settling on Matt. Bass? Well as previously mentioned, Jacob played that role for the first year. Then we used craigslist to find another (Will). That didn't work. (am I getting repetitive yet?) So we found Brad...on craigslist. And here we are."
Action Verbs - ... to never again
Boston's
ANTHEMS MA - The Brightest of Futures!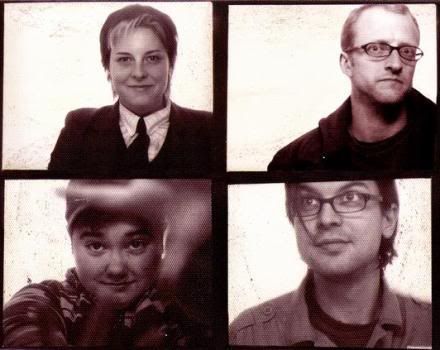 Plodding Bass, Squealing Guitar... Just listen to "
Bullet!
"
I have to be honest, I have very quickly become a big Anthems MA fan. Everything about the band and their dramatic songs strikes me as "big time." The addition of this band to the Tuesday night lineup at the Middle East is absolutely huge!
Anthems MA
has opened for The Cinematics (TVT Records), Roger O'Donnell (The Cure), Summerbirds in the Cellar, and the 80's New Wave bands Missing Persons and Gene Loves Jezebel.
In their own words:
Anthems MA has the shimmer and pop of a high-class whore's lip gloss. Their carefully crafted sound wafts between swirling atmospheres inspired by dream pop, and rock-steady rhythms rooted in funk, jazz, and drum n' bass. In March of 2007, the four piece ensemble hailing from Boston introduced their debut EP '
Come Blister the Sea
'.
Anthems MA's next full length record, '
Time Starts Now
' is slated to be released this year.
Anthems has somehow managed to stretch at the seams of their creative paradigm in order to deliver an affecting and emotive ride.
Anthems MA
Myspace page