Deerhoof - How I Spent My Summer Vacation
PROGRESS REPORT:
DEERHOOF
It's kind of hard to believe that
Offend Maggie
, Deerhoof's new record on the
KRS
(Kill Rock Stars) label - out on October 7th, will be their 13th professional release. Because of their individuality and ever-changing nature, I still find myself thinking of Deerhoof as a new band. They certainly keep it fresh.
This fine indie rock band from San Francisco
has proven to be one of the most prolific and talented of the era. And while Deerhoof is an acquired taste (and certainly a band's band) there is much to enjoy for beginners. Deerhoof's sonic meanderings are challenging and sophisticated.
As time has passed and I look back on Deerhoof's
accomplishments
, I realize again that this is a band ahead of their time. Here's to hoping they finally get some well-deserved attention in 2008.
DEERHOOF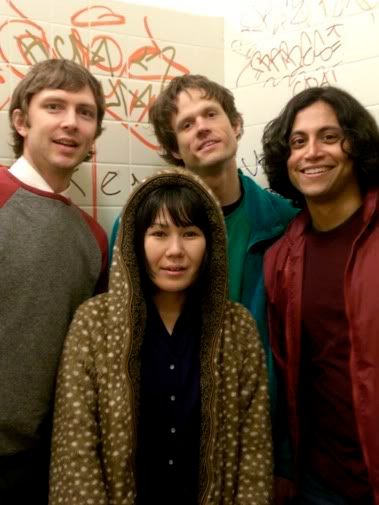 Prediction:

Will Have A Great 2008/2009
-

SNEAK PEAK:

the

OFFEND MAGGIE

album -
(Tentative - Oct 7th, 2008 release)
1. Offend Maggie
2. Fresh Born
3. Chandelier Searchlight
4. The Tears and Music of Love
5. Buck and Judy
6. Don't Get Born
7. My Purple Past
8. Basket Ball Get Your Groove Back
9. Numina
10. This Is God Speaking
11. Eaguru Guru
12. Snoopy Waves
13. Jagged Fruit
14. Family of Others
BONUS MATERIAL:
According to Filter magazine, Deerhoof drummer Greg Saunier spent some time this year working with members of Wilco on the soundtrack for the new Will Ferrell and John C. Reilly comedy titled, "Step Brothers" set for a theatrical release in July. I don't have any of that music for you (
yet
) but I do have a link to the trailer.... (
YouTube - "Step Brothers"
). How's that for Extra Credit?!