Poi Dog Pondering
The Return of the Band That Never Really Left at All

Poi Dog Pondering
is not your average indie rock band.
Geographically, they come from faraway places with diverse backgrounds: Hawaii, Austin and Chicago. Having been street performers, soul survivors, base and drum enthusiasts, rockers and probably about five more incarnations I failed to mention... The band is guilty of yet another new release - their seventh album. The aptly titled: "
7
" is 14 songs of soul and rock wrapped up together. There are some who are calling it a major return to form and their best work in years. All I know is this band is really different and their music's great!
Poi Dog Pondering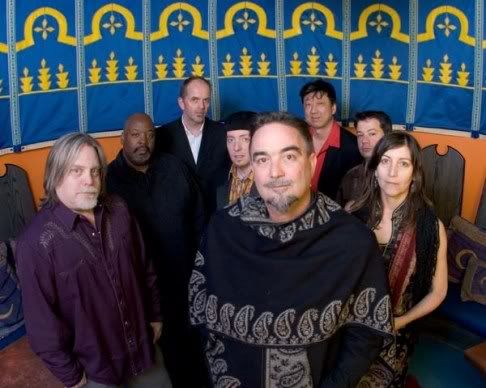 I wouldn't be writing about them if they weren't Really Good.
Proof Positive you have never seen a band like this before -
(From the Poi Dog Pondering website):
Every record is a new adventure for us,
and on this outing, we were in the mood to make a 'rock and soul' record. Because we control the purse strings, we spared no expense. We wanted a warm dynamic sound, so we recorded to analogue tape (when ever we could) & used old school effects like spring reverb and space echo in place of digital effects. We locked out the studio and lived in it.
Instruments we used to make this new record:
6 and 12 string acoustic and electric guitar, bass, drums, vibes, charango, guzheng, ukulele, tambourine, bandoneon, jaw harp, super tarana, xylophone, violin, cello, casio, vocals, trumpet, melotron, stylophone, electric mando cello, space echo, fender rhodes, wurlitzer, synth, piano, saxophone, trombone, baritone sax, omni chord, shakers, cow bells and hand claps.


Album Format:
The New Record "7" will be available on L.P., 8 track, cassette, c.d. and digital down load -
Cause we're stubborn like that.
JUNE DATES


Wed June 4


St. Louis, MO @ Blueberry Hill


Fri June 6


Austin, TX @ Antone's


Sat June 7


Houston, TX @ Continental Club


Sun June 8


New Orleans, LA @ The Parish


Tue June 10


Nashville, TN @ 3rd and Lindsley


Wed June 11


Newport, KY @ Southgate House


Fri June 13


Lawrence, KS @ Downtown Lawrence


Sun June 29


Highland Park, IL @ Ravinia Festival
The Unbelievably Unique History of a Band that's Lasted 2 Decades:

1987:
Hailing originally from Hawaii, the original lineup came to the mainland and traveled around North America busking on street corners for gas and food money. They camped along the way.
1988 - 1991:
The band relocated to Austin and during this three year period they would release three records: "Poi dog pondering", "Wishing like a mountain..." & "Volo Volo". Toured heavily in the States, Canada, Europe and Japan. Played a lot of famous places like CBGBs in New York!
1992:
PDP relocated to Chicago and developed it's big band Rock and Soul sound.
1995:
PDP release the "Pomegranate" album.
1996:
PDP performs the album "Pomegranate" from start to finish with the Grant Park Symphony in Chicago's Grant Park.
1996:
Released the "Electrique Plummagram" EP
1997:
PDP release "Liquid White Light" - a live retrospective.
1998:
PDP released "That's the Way Love Is" EP
1999:
PDP released "Natural thing" album
2000:
PDP release the live album " Soul Sonic Orchestra" which captures the band re-inventing itself once again.
2001:
Band Front-man, Frank Orrall's interest in electronic music led him to become a member of Thievery Corporation's live band as a percussion player and singer, along with PDP percussionist El John. (They still play with the touring band when not with Poi Dog Pondering.)
2001:
PDP release " Sweeping Up the Cutting Room Floor" a collection of previously unreleased studio out-takes from 1987 to 1994
2003:
PDP released their 6th record "In Seed Comes Fruit".
2004:
PDP release the Marco Ferrari filmed and produced DVD "Audio Visivo" detailing the present history and recording of "In Seed Comes Fruit".
2005:
PDP / Chicago Sinfonietta collaboration of Dvorak's "New World Symphony".
2007:
PDP / Chicago Sinfonietta collaboration mini opera "Carmen" and the composition and performance of an original score for the Brazilian silent film "Limite" by Mario Peixoto.
2008:
PDP finish and prepare the new record ("7") for release.