Bob Dylan 1963 Interview and Live Performance - First Ever Boots of Spanish Leather
Happy Birthday Bob Dylan!
Sixty Seven Years ago today you were born
and you've been sharing your music with us for 48 of those years. I can't think of any way better to commemorate your special day than to share this remarkable and rare, high-quality 1963 radio interview and performance
recorded in studio by WFMT Chicago radio guru Studs Terkel
. I posted this gem recording up last in September of 2006 and now that some time has passed I am hoping it will find purchase with a new audience and a fresh set of ears.
Bob is only 22 years old in this interview.
He gives a great performance including the first ever recording of
Boots of Spanish Leather
. This one is an absolute must have for Dylan fans as well as for those who love listening to magical moments locked in time. This one's a keeper Bob, just like you. Happy Birthday!
Current events had family television sets tuned to the news. The adults were afraid of change. The kids were whispering too. Some of them were mouthing lyrics to exciting new songs.

This is a remarkable recording from WFMT radio in Chicago. The Dylan that performs here is remarkably like the Dylan we know from interviews today - just younger, and a little more open.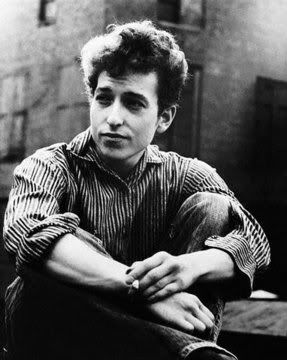 Dylan in '63: wordy but exceedingly clear,
The young man is easily excitable but quite fun.


There is insight here! This recording is an open door leading to Dylan's core values. We hear about his first visit to NYC. We know how he feels about folk music. We hear from Bob how the Cuban Missile Crisis impacted his song writing.

The class contrarian, Dylan opens the show with Farewell. It's his first chance to set the pace during the interview and he tries to make the most of it. Dylan strums away and declines to stop and let WFMT-Chicago host Studs Terkel speak until the last note of this song is played out.

WFMT-Chicago radio's Studs Terkel

Dylan has evidently declined to give the Chicago programmer a set list but Terkel is a radio professional and he deals with the situation. Here, Terkel plays the part of host and a lion tamer. His "big cat" is a scrawny Midwestern songwriter with big dreams.


The kid is also fairly convinced he is in charge. The result is that this interview unfolds brilliantly. The studio sound engineers capture a long and winding free-form interview and live guitar session.
During a discussion of the Cuban Missile Crisis and how it impacted the singer, Dylan surprises the Chicago host by telling him that he won't perform
"A Hard Rain."
"You've got the disc there. You can take it off that. I prefer it if you could just do it that way," Dylan says quietly referring to the radio station's 45 album copy. Dylan's guitar, silent, sits nearby. "I mean, I could sing a song, but it takes a long time to sing."


With infinite patience, Terkel prevails. "I would like you to sing it, and I will tell you why after you sing it..."

You can almost Dylan his roll his shoulders. He could care less. "Alright." he says as he gathers his guitar from the studio floor. And what we hear next is just remarkable.
By now Dylan and Terkel have struck an odd, but working, relationship. The two ramble through talk about life in New York and friends along Dylan's path.


At times the two step on each others words.
Dylan, initially very quiet, is shooting his words as fast as he can. He speaks, recants and then clarifies each thought.
The song lightens the mood in the room a bit further. Despite Studs'best attempts to prod him, Dylan still declines to speak about Woody Guthrie. He retreats into conversation about his development as a singer-song writer.
The topic of
Dylan as a folk singer
stops the conversation in its tracks. Dylan does not consider himself to be a folk performer and he announces that he will no longer perform popular folk tunes.
(The tone of Dylan's anti-folk state of mind explains the odd introduction to the recording - the radio show call man had introduced Dylan to the home audience by calling him "a folk singer!")
"I did it. We'll just say I did it," Dylan says of being a folk singer. "It was something I did."
Things are tense now, but again Terkel maneuvers through the choppy waters and reaches Dylan. He is able to pull another live performance from Dylan. This occurs when the host asks Dylan if there are any of his songs that he thinks might one day be recorded and sung by other artists.
Suddenly, Dylan is uncharacteristically enthusiastic. Ignoring the conversation with Terkel, the young Dylan begins tuning and strumming his guitar. He is pacing the cage like a tiger! He is ready to perform.
Finally,
the room grows silent and Dylan can begin.
It's the first ever confirmed recording of Boots of Spanish Leather!
Dylan had written it weeks before but it had not yet been put to tape in the studio. It's magnificent.
NOTE: FIRST KNOWN RECORDING
When asked about Dylan got into songwriting - he responds:
"It's always been with me. I can't really say what lead me to it," Dylan continues. "I like to do a lot of things. I'm one of these people who tend to think that everybody has a certain gift. The trouble is just trying to figure out what it is."
This is the best part of the entire show. Listen carefully - Dylan speaks more like a sage than a intimidated young kid thrust on the world stage. Amazing.
Dylan says he is writing a book about his first week in NY.

NY, NY: A place to pound a nail:
"There's a couple of chapters in it," Dylan says. "It's about somebody that's come to the end of one road. He knows there's another road there, but he doesn't know exactly where it is. And knows that he can't go back on the other road. All kinds of stuff there, all kinds of thoughts."
Dylan is tired at this point, Dylan signals that he has had enough. The coy Terkel lets Dylan rest during a period of conversation, then some how draws yet another song out.
"Blowin' In the Wind, that's a popular song!" Terkel says.
Dylan, evidently resentful, responds: "Oh god, I hope not!"
* * * * * * *
The show ends here.