The Yellowbird Project
THIS NON-PROFIT

WORKS WITH INDIE-ROCK BANDS



TO CHAMPION CHARITIES
The Yellowbird Project is an artistic endeavor
. Headquartered in Montreal, Project members are enthusiastic about what they do. They are, themselves, fans of the music and they have found a way to help people with their passion.
How It Works:
Yellowbird approaches the bands they like and ask them to select a worthy charity and then allows the band to design their own tee-shirt for sale at the website. The folks at Yellowbird produce and sell the shirts (which cannot be purchased anywhere else) and then send the proceeds of the sales to the charity that the band selected! It's a beautiful thing.
Wolf Parade's Dan Broeckner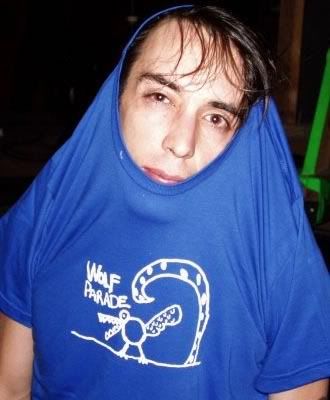 Wolf Parade designed this exclusive shirt.
Check it out it at the Yellowbird webpage

Wolf Parade - This Heart's on Fire
AU REVOIR SIMONE in their Yellowbird
Au Revoir Simone on
Yellowbird
Au Revoir Simone - Hurricanes
With a crazy-great indie rock lineup of bands offering up their own designs - it's wicked cool to give and wear these shirts. (And it just feels right to support a great cause!) Here are the current bands with tee-shirt designs and the charity (in parenthesis) that they support:
BROKEN SOCIAL SCENE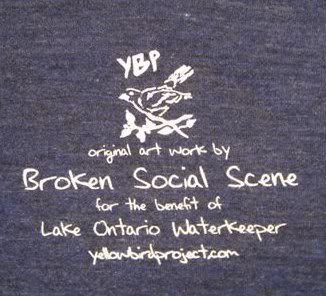 SHIRT - SAMPLE BACK
Broken Social Scene - Cause = Time
Look Good - Feel Great.
Tee-shirts are $25 which is less than what you would pay for bad concert tees.
These are great conversation pieces and they bring you closer to the band than a generic tee with the band's name on it.
HIGHLY RECOMMENDED!