BIG DIPPER - The long awaited "Supercluster"
The Triumphant Return of Boston's Big Dipper -
One of the city's greatest bands ever releases an anthology that belongs in your collection!
The band will resurrect the songs during live performances (the first appearance for some Big Dipper songs in 16 years) this week.
Very Highly Recommended!
"
When you think back on it, Big Dipper was a supergroup.
Yeah, that sounds funny if your definition of 'supergroup' lives along the lines of Blind Faith and GTR. But the pre-Dippah pedigree of the band was undeniable, with members having done time in some of the better groups of the early- to mid-80s.
Gary Waleik was one-third of the original lineup of the amazing Volcano Suns along with Steve Michener, who also played bass with Dumptruck for a stretch. Bill Goffrier was the guitarist for the legendary Wichita band The Embarrasment. Jeff Oliphant drummed for XS...
Big Dipper brought pieces of all those bands to the table - the thud of the Volcano Suns was married to the twitch of the Embos and the moody jangle of Dumptruck. But it added up to so much more than that.
They had it all; they were smart without being annoying, funny without being silly and unafraid to rock it hard or crack their hearts wide open.
"
Tom Scharpling - WFMU Radio, New Jersey
liner notes to Supercluster
Boston's Big Dipper just released the Supercluster Anthology
(Merge Records) - one of the greatest collection of songs, photographs and facts I have had the pleasure of reviewing. The hot 3-disc Anthology, limited to just 5,000 copies, presents the listener with an enjoyable album-by-album, track-by-track take from the band's formation (1985) through their peak (1990) and on through the inevitable breakup in 1992 after an unfortunate major record deal which many feel was bungled by Epic Records.
Supercluster's bonus material picks from the band's hard to find and unreleased archives and offers up the band's insight into the songs and their creation. This one is a must have for Big Dipper fans and recommended fare for anyone interested in the Boston Scene during the 1980s.
Included in this mighty package (49 songs!) is the bonus video for "
Faith Healer
" - which got Big Dipper on the national airwaves, (sealing the band's permanent place in Boston folklore) a track that almost making them a household name everywhere else.
To grasp the evolution of Boston rock history, one should first study the stars...
Vintage Big Dipper
Big Dipper is
Bill Goffrier
(vocals/guitar),
Gary Waleik
(vocals/guitar),
Steve Michener
(bass/vocals), and
Jeff Oliphant
(drums/vocals).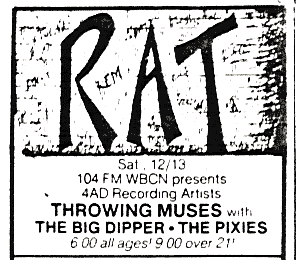 LIVE! -
The release of Big Dipper's Supercluster is intended to be a celebration - not a funeral. The founding members of Supercluster are picking up where they left off 16 years ago. Three live shows are scheduled this week only: