Ready to Rock? The Savage Guitar Sound of THE SWORD!
TOMORROW'S
INDIE-METAL NEW RELEASE:
GET READY TO RIDE THE LIGHTNING


Insanely Loud return to Guitar from THE SWORD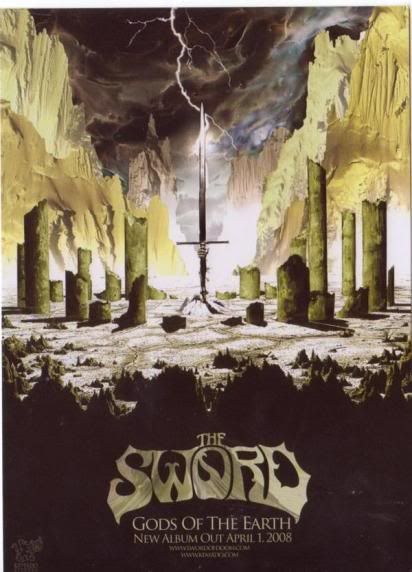 One of the most fun releases so far this year is born tomorrow (April 1). Shock and Surprise - it's a metal album!


Austin's The Sword
(
Kemado Records
) is one of the hardest rockin' bands going and the young four-piece has proven itself to be most skilled. Playing screaming guitar, powerful bass and pounding drums - the band finds some way to avoid the foolish grunting that characterizes "modern" metal. The Sword is a guitar cult and a refreshing throwback...

The Record:

"GODS OF THE EARTH"
(the band's second full-length album) is a truly refreshing homage - a guitar metal church, if you will, to the accomplishment's to bands like (the original) Black Sabbath and great yester-year records like Metallica's 1984 release:
Ride the Lightning
.
Get out your air guitars!
THE SWORD - VIDEO FOR THE FIRST SINGLE
Fire Lances Of The Ancient Hyperzephyrians
:
GODS OF THE EARTH Tour
04.01.08
-
Newport, UK
- TJ's *
04.02.08
-
Portsmouth, UK
- Wedgewood Rooms *
04.03.08
-
London, UK
- Underworld *
04.04.08
-
Colchester, UK
- Arts Centre *
04.14.08
-
Lubbock, TX
- Jake's Sports Center
04.15.08
-
Albuquerque, NM
- Launchpad
04.16.08
-
Phoenix, AZ
- The Brick House
04.17.08
-
San Diego, CA
- The Casbah
04.18.08
-
Los Angeles, CA
- El Rey Theater
04.19.08
-
San Francisco, CA
- Slim's
04.21.08
-
Portland, OR
- Berbati's
04.22.08
-
Seattle, WA
- Neumo's
04.24.08
-
Boise, ID
- Nuerolux
04.25.08
-
Salt Lake City, UT
- Club Vegas
04.26.08
-
Denver, CO
- Bluebird Theater
04.28.08
-
Wichita, KS
- Barley Corn's
04.29.08
-
Oklahoma City, OK
- Conservatory
* w/ Saviours, Black Cobra
w/ Children, Slough Feg
East coast tour in May


The Bonnaroo Music Festival in June