PELA singer hurt during Concert - TOUR CANCELED
BREAKING NEWS:
PELA TOUR CANCELED DUE TO INJURY
PELA Singer Billy McCarthy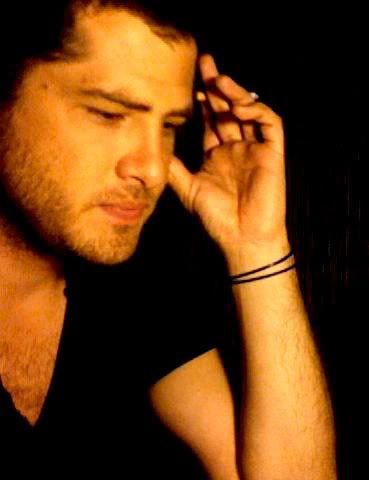 sustained cuts and suffered a severed tendon
NOTE FROM THE BAND:
Sliced Tendons and a Canceled Tour


We are writing to you as our van heads back to New York. Billy has already returned to New York via plane, and is preparing for surgery.
During last night's show at Schuba's in Chicago Billy fell off the stage, landing on a broken pint glass. This happened during the triumphant finale of the set; the stage was crowded with people dancing and singing to '
Cavalry
', while a strobe light turned their vision into a cut screen movie. His left hand has a gash on the palm, and a deep slice in his pinky finger which also cut tendons.
We regrettably must announce that Schuba's was the last night of the tour.
We promise to make up each and every show as soon as possible and apologize to everyone who purchased tickets. Arrangements are being made with all of the clubs on how best to handle the situation. We will have more information soon.
LIVE PELA
at TT the Bears in Cambridge - Tuesday 2/26/08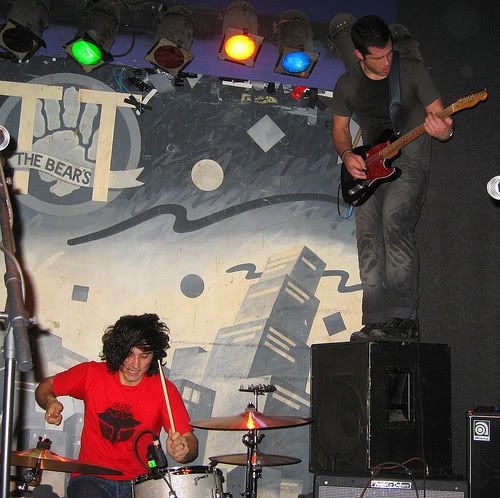 ABOUT THIS SHOT:
Singer McCarthy (
right
) performed during the driving "
Cavalry
" (an impressive, powerful song) during the Cambridge show finale. Moments later, he leaped off the speaker - crashing to the stage below. Also pictured: Pela drummer Tomislav Zovich.
Photograph by
Hunta
This is a horrendous event! What bad luck. I can't even imagine how long a sliced tendon in a hand in the hand will take to heal. I was there last Tuesday night during the tour opener. I have to tell you, Pela was playing as well as I have ever seen any indie rock band play. Despite not playing together since last November, they sounded phenomenal. I hope Billy heals soon and more fans get to see this band play real soon. This was a horrible break for a hot, hot band. - Ryan

The Song that kicked so much ass in Boston
Billy McCarthy was playing it in Chicago during his injury:
Pela - Cavalry