Happy St Patrick's Day from the Dropkick Murphys!
DATELINE: BOSTON, MA
-
Today's a day to wear your green.
I am confident that time will prove
that Boston-area natives the
Dropkick Murphys
will rank amongst the all-time favorite bands to emerge from the city. They sell out shows everywhere they go and take their Boston pride with them on the road. The Dropkicks have written songs for the city and its people, for the favorite sons - The Red Sox, and for the movies filmed in Boston. For the time being these journeymen will be traveling through Europe where the Dropkicks threaten to make thousands of new fans. But first there is a sold-out St. Patrick's day home stand this week. The hometown definitely feels the love.
With last week's release
of the special
"Irish Green"
limited edition of "
The Meanest of Times
" fans can get closer to the band than ever. The set includes a DVD video with " the making of" material and the massive CD adds bonus songs that the original version didn't have. There a a massive 20 songs now - making this the greatest Murphys release to date. It's in stores now - and a must on this holiday. Happy St. Patrick's Day!
Happy St Paddy's Day from the Dropkicks!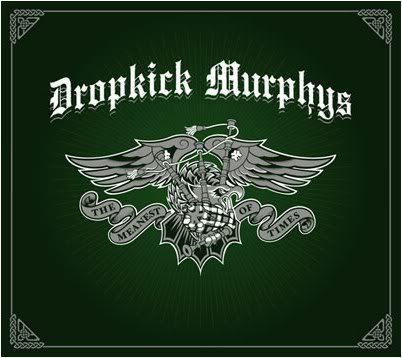 Ltd Edition: One CD with bonus songs + One DVD
highly recommended!