Justice of the Unicorns - Something Special
DATELINE: BROOKLYN, NEW YORK -
Justice of the Unicorns

could be the best new band of 2008

.
The Brooklyn band has begun to, as Bob Dylan said: "
Change my way of thinking
." They, with with the "bizarro name," are ever part as wonderful and similarly artistic as three highly revered and successful modern "bizzaro acts" - Ween, the Flaming Lips and solo artist Beck - and yet still somehow Justice of the Unicorns is still its own animal.
JOTU's new album (their second full-length release) will hit store shelves next month. Change is the way of the world and I promise you - there will be much, much more to be said on this band. Read on brave of heart - we are entering The Age of the Unicorn.
JUSTICE OF THE UNICORNS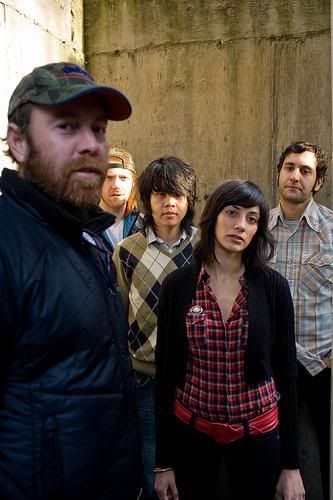 They will rock you.

Justice of the Unicorns is:
Russell "
Rusty
" Dungan - Lead Vocals, Guitar, Jason Lam - Guitar, Daniel Forbes - Bass and lap steel, Anthony Cangelosi - Drums, and Yasmin Reshamwala - keyboards.
The talented Dungan and Lam are guilty conspirators in
Tigers and Monkeys
- another amazing New York band which released a tragically good rock album, "Loose Mouth," in 2007. For all their work, Tigers and Monkeys earned a spot on last year's very exclusive
RSL Top 40 Artists List
. I suspect there might be room Justice of the Unicorns on this year's list...
With song lyrics that sometimes make you laugh (lyrics about the movies
Krull
and
Labyrinth
) and stories that touch the heart and make you want to cry, Justice of the Unicorns' INCREDIBLE new album is one to have.
"Angels with Uzis"
- will be released in March on Little Lamb Recordings. It comes to you HIGHLY RECOMMENDED - one of the year's first must-have indie rock recordings.
The recommended album set for release this March: