John Brazile & Friends - Boston CD Release Party
BOSTON'S OWN: A NIGHT ON THE TOWN

I am still
sick
and will not be attending my friend John Brazile's CD Release party.
Brazile
, who has played two RSL live music showcases in 2007, is releasing "Commencement" - a new collection of songs. I will have the full album review up shortly. Appearing with John tonight at Oliver's Nightclub at the
Cask 'n Flagon
are friends - both old and new, set to make this one CD release party to remember!
Boston's Talented New Stock:
One of the most talented new songwriters
JOHN BRAZILE
THE LINE-UP
TONIGHT IN BOSTON: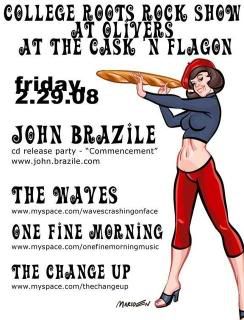 The Line-up tonight will include:
WAVES CRASHING ON FACE
Led by reclusive singer/songwriter Ben Garrett, who wrote many of the songs for the project while holding his breath underwater, Waves is a band bent on high adventure. Evident is a love of diverse musical genres. Combining handsome songs, alt-country/Americana influences with hip-hop beats, art-rock leanings and nods to a plethora of other genres, Waves is a truly unique and rewarding musical experience not to be missed.
ONE FINE MORNING
This homegrown Boston band infuses powerful energy and strong songcraft into their live shows, creating fresh and original jams that keep every song they touch full of life. Percussive acoustic guitar and tight rhythms, strong earthy vocals and energetic piano and horn solos make for a memorable live experience.
THE CHANGE UP
This band combines the best of folk and funk into a new, fun sound. The perfect fusion of soul-searchin' groove and upbeat indie rock. Don't skip out on The Change Up!
DETAILS:
The Cask 'n Flagon
tonight at 8:30 p.m.
(21+) $10
62 Brookline Ave, Boston, MA 02215-3402