Waiting and Waiting... Tapes n' Tapes in '08
Note to the Band:
The fans are waiting.
Minneapolis' Tapes n' Tapes
-
indie dynamos brought to the world's attention in '06
- announced last fall that they had recorded enough songs to fill their second album. And still we wait without a release date to mark on the calendar. Don't get me wrong - anticipation can be a good thing! I really look forward to this record. On October 25th 2007, the band announced that they had finished recording their second album, which is still untitled. The new songs were recorded by producer David Fridmann in Cassadaga, New York. (The band produced their own songs for their tremendous debut "
The Loon
.") Having already have seen the band a few times over the last two years (incredible!) - I can only imagine where the new material is headed! (All together now:) "We want the new material!"
Josh Grier
Jeremy Hanson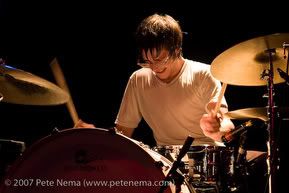 photos by Pete Nema
Note to Readers: *

the band's webpage looks all but abandoned. It hasn't been updated since November of last year. You may actually get more out of the band's Wikipedia page...