Tapes N Tapes - WALK IT OFF drops in April
File Under: Ask and Ye Shall Receive


Five Days Ago, I ran a piece that was somewhat critical of one of my favorite bands for not delivering any news about their album or tour plans in 2008. It was critical - but fairly so, since the good folks of Tapes N Tapes haven't released for more than a year and have been promising us something since October.
Here's the piece I wrote.
Yesterday - after months of literally no activity on their webpage and no updates to the public, they finally
gave us some tidbits of information and a release date for the new album
,
"Walk It Off."
I won't take credit for it - I just wanted you to know and here are the details as published:
Something

is

Cooking with Tapes n Tapes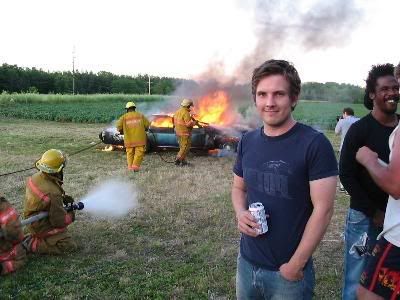 Tapes' Matt Kretzman
SECOND RECORD:
The much awaited follow-up to "The Loon" will be released by XL Recordings on April 8th. "Walk It Off" will offer fans twelve new tracks (none available for listening or download at this time). Tapes
will
play the SxSW Music Festival in March and will embark on a national tour in April (no dates or cities yet announced). Having seen them twice, I urge you to stay up to date on all the TnT news - you don't want to miss out!
"WALK IT OFF"
TRACK LISTING:
1. Le Ruse
2. Time of Songs
3. Hang Them All
4. Headshock
5. Conquest
6. Say Back Something
7. Demon Apple
8. Blunt
9. George Michael
10. Anvil
11. Lines
12. The Dirty Dirty
Despite
what the headline promises
, Frontman Josh Grier speaks to
Pitchfork Media
on it's news blog - but he doesn't reveal much at all, unfortunately.
Most disappointing is that Grier doesn't bring any new track of Tapes n Tapes music to run with the piece.
The Q&A reads pretty much like a press release.
The one thing of interest revealed in the interview (which we will hopefully know soon enough) from Grier said he thinks the first single will probably be, "
Hang Them All
."
If you want the quick and dirty, without the "
hard-hitting journalism
", you can always just read it on
the band's website
.