MGMT's Video for "Time to Pretend" + The Winter Tour
DATELINE: BROOKLYN, NY -
With a brand new album,
"Oracular Spectacular"
in fine indie rock stores this week, the second leg of
MGMT
's Winter Tour is now underway. If you recall, MGMT toured briefly in support of Kevin Barnes' Of Montreal - then followed that up with a full length waltz with the Fiery Furnaces. (
On December 10th, Great Scott hosted a memorable evening
with those two bands along with fellow New Yorkers
Michael Goodman and the Mike
.)
ELECTRIC INDIE ROCK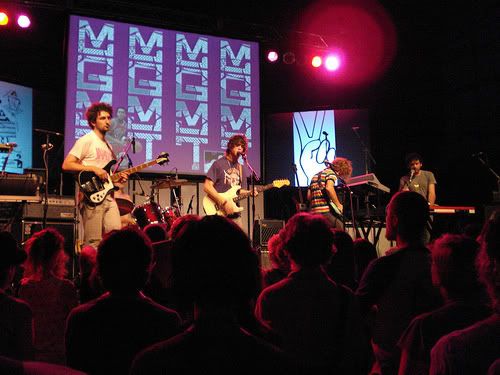 MGMT is about as hot as it gets right now
photo credit: Kate from The Glorious Hum
In 2008, MGMT embarks on a fresh tour, co-headlining with
YeaSayer
. They found some time, somewhere, in between their shows and shoveling snow to make a video for the track
"Time to Pretend"
from the "Oracular Spectacular" album.
Here's the video premiere:
TOUR DATES:
1/25/2008
SAN DIEGO, CA
Yeasayer headline
THE CASBAH
1/26/2008
LOS ANGELES, CA
MGMT headline
THE ECHO
1/28/2008
SAN FRANCISCO, CA
MGMT headline
BOTTOM OF THE HILL
1/30/2008
E. PORTLAND, OR
MGMT headline
HOLOCENE
1/31/2008
SEATTLE-TACOMA, WA
Yeasayer headline
NEUMOS CRYSTAL BALL READING ROOM
2/1/2008
VANCOUVER
Yeasayer headline
THE BOURBON
2/2/2008
BOISE, ID
Yeasayer headline
NEUROLUX
2/3/2008
SALT LAKE CITY, UT
MGMT headline
KILBY COURT
2/4/2008
DENVER, CO
MGMT headline
HI DIVE
2/6/2008
OMAHA, NE
Yeasayer headline
THE SLOWDOWN
2/7/2008
MINNEAPOLIS, MN
MGMT headline
7TH STREET ENTRY
2/8/2008
CHICAGO, IL
Yeasayer headline
SCHUBAS TAVERN
2/10/2008
MONTREAL, CANADA
Yeasayer headline
LA SALA ROSSA
2/12/2008
ALLSTON, MA
MGMT headline
GREAT SCOTT
(

reportedly sold out

)
2/13/2008
NEW YORK, NY
BOWERY BALLROOM
2/14/2008
WILLIAMSBURG, NY
Yeasayer headline
MUSIC HALL OF WILLIAMSBURG
More listings on
the MGMT Myspace