Soul Coughing live in Philadelphia (1996)
I am very happy to be able to share something with you today I really enjoy. A top quality recording of one of my favorite bands at a premium point in their career. I will only be leaving this one up through the end of the weekend - I need to save some bandwidth for my year end wrap ups (
Top 40 Albums of the Year
- download an mp3 from each album as a sample... Whetting your appetite and firing you up - just in time for your holiday shopping! This hot list will be an absolute can't miss.)
SOUL COUGHING
LIVE - 7/15/96

The Khyber Pass Pub - Philadelphia
New York's
Soul Coughing
disbanded more than six years ago now but they proved to leave a permanent mark on my ear for music. My leanings have always been towards the talented and the unique. We certainly have that here. Led by Mike Doughty, who would later go on to have a satisfying (but somewhat commercially quiet) solo career, Soul Coughing challenged our concepts of what music was supposed to sound like.
Doughty rocked
The band released gems between the years of 1992 and 2000. These were hard lean years for a band that sounded so different. And while the band was far too good to be ignored, they were clearly misunderstood. Warner Brothers' executives relegated the band to Slash (a WB subsidiary label) - and the band fought through it all to produce remarkable music for seven-and-a-half years before internal dissent would tear the group apart.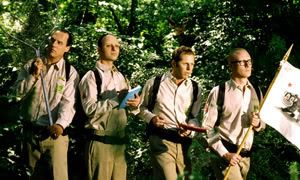 Here is a live recording in Philadelphia more than a decade old. It could be yesterday and I think you'll find that it's definitely worth a spot in your music collection.
01 - Intro
02 - Lazybones
03 - White Girl
04 - Like a Prayer into Is Chicago, Is not Chicago
05 - Soft Serve
06 - Soundtrack to Mary
07 - Collapse
08 - Witchita into Wonderwall (sort of)
09 - Paint
10 - Sugar Free Jazz
11 - Idiot Kings
12 - Super Bon Bon
13 - Blue-Eyed Devil
14 - Thanks
15 - Moon Sammy
16 - Screenwriter's Blues
17 - Uh, Zoom Zip
The Files are Retired.
But you can download at
The Internet Achive
* I have added two bonus tracks
"The Bus to Beezlebub" - a favorite of mine which does not appear in this live show... (Much to the lament of the crowd - we hear them beg Doughty, repeatedly, to play the song!)
They never get to hear the track, but I have it here for you!
The next bonus track is called "Unmarked Helicopters" - and it just happens to my very favorite Soul Coughing song. It was written specially for an X-Files episode in season 4 of that show.

X-FILES:

The truth was out there.
Mulder and Scully found Soul Coughing in the search for answers.
(The track appears when Mulder and Scully come across an abandoned gulf stream trailer belonging to a missing UFO researcher. Mulder finds a tape deck. He hesitates and hits play hoping that they have found evidence that will prove the existence of aliens here on Earth.)
What they gets instead is this song: