Review: Theo and the Skyscrapers "So Many Ways to Die"
2007 Record Review Recap - THEO & THE SKYSCRAPERS:
In July I found out just how deadly Theo Kogan - lead singer of
Theo and the Skyscrapers
can be. The band's second full-length album "
SO MANY WAYS TO DIE
," is one of the most fun albums released this year.. Just check out the "injury makeup" the band used in their promotional pictures below...!
Kogan is one of the premiere woman of rock
. Attending a live show is a must! This woman has magical control and stage prowess. Theo is the legendary songstress behind the Lunachicks - an all-girl band that rocked stages in ways unimaginable. That was until I saw the Skyscrapers play live last year. Wooo-weee! There is heat in the kitchen!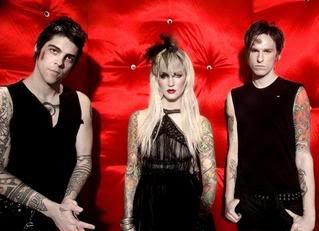 The Skyscrapers - Theo Kogan's band releases a great sophomore album
After leaving the Lunachicks
, Kogan teamed up with guitarist Sean Pierce (former Toilet Boys) and drummer Chris Kling to form the Skyscrapers (there is no one in the band shorter than 6'5" tall. No joke!) - When Kogan (tall, blanched hair and tattoo-sleeved arms) walks into the room she definitely makes an impression!)
"So Many Ways to Die" is a 12-track album with a duality theme
. The songs are about
beauty and death
;
vitality and decay
;
sensuality and destruction
. The publicity shots for this album even have the musicians (healthy looking and clean) showcasing fresh wounds - as if there was a recent battle - or worse; they might be at death's door. These are themes perfect for this band and their sound. Highly recommended listening!