Love is the Song We Sing - San Francisco Music Scene 1965/1970
An exciting new music collection celebrates the 40th Anniversary of "The Summer of Love" in San Francisco.
The counterculture celebration on the American West Coast proved to change the way music was made and people viewed war and culture. This dynamic period actually lasted far longer than a single summer. The "Love is the Song We Sing: San Francisco Nuggets" collection takes in music spanning from 1965-1970. The four-disc, whopping 77-song collection is a superior mix. "Love" is a comprehensive collection of choice songs representing artists both known and those lost in time.
A Bill Graham New Years Concert Poster from 1967: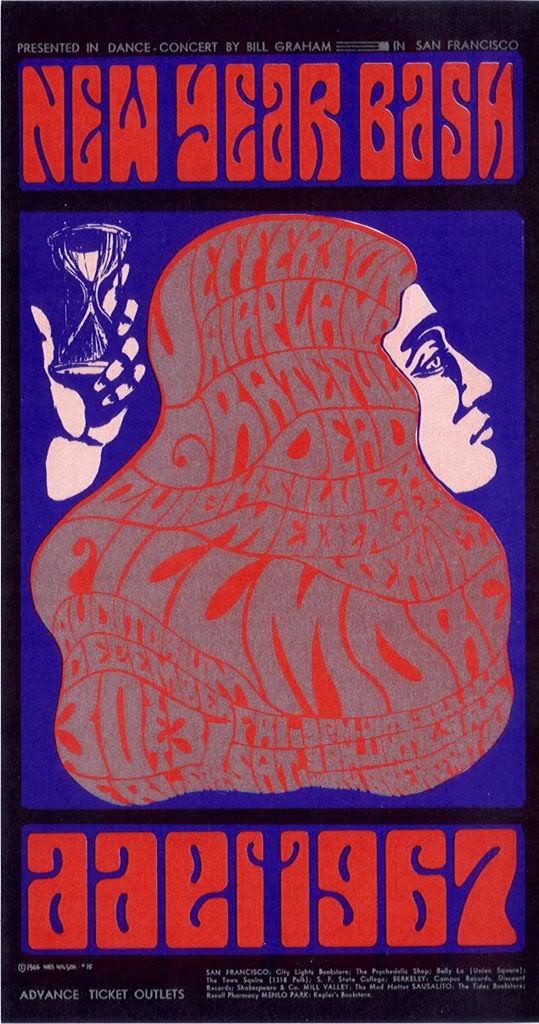 This show:
Jefferson Airplane, The Grateful Dead, Quicksilver Messenger Service
ARTISTS: A quick list of some of the artists in this collection: The three artists listed above, Carlos Santana, Sly & the Family Stone, The Steve Miller Band, The Grass Roots, The Charlatans, Country Joe & The Fish, The Oxford Circle, Big Brother & the Holding Company, Moby Grape, The Youngbloods, Janis Joplin, The Mojo Men, Dan Hicks & His Hot Licks, Chocolate Watchband and Blue Cheer.