DeVotchKa joins Neko Case, Nick Cave, Tom Waits and Elliott Smith
One of the ten hottest acts of 2006 was DeVotchKa
- the band that brought the noise on the "Little Miss Sunshine" soundtrack. With singer Nick Urata and their own remarkable string section, the beautiful noise of DeVotchKa was turning heads. The latest news from the band (a personal favorite for their soulful songs and exquisite precision) is their addition to
the Anti-Records label
... a move that puts them in with some very talented company.
DeVotchka is now in the Anti-Records stable
Singer Nick Urata - a voice like a fine instrument
The Artists of Anti-Records
Some of the best music in the world:
Neko Case
Neko Case - Hold On, Hold On
Tom Waits
Tom Waits - Step Right Up
Elliott Smith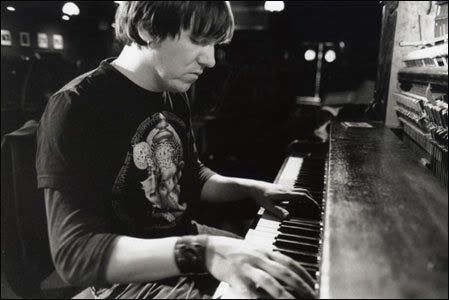 Elliott Smith - Friends (Led Zeppelin cover)
That's some good company. Congratulations
Anti-Records
!
Best of luck to
DeVotchKa
. Keep making great music.
UPDATE - NEWS!