ARTIST OF THE WEEK - The Storybook Sound, The Drama of Chapel Hill's THE NEVER
Prologue to today's story - If there has something I have tried to impart on you readers about my experiences in attending live shows - it's the single fact that you just cannot expect all outcomes. Sometimes you need to go out and check out shows when you don't know any of the bands on the menu. And when you do go out to see a band you know, it's best to get there early and check out who is playing with them. You could be treated to something so sweet, so unexpected - that it makes everything right. End - prologue.
CHAPEL HILL INDIE ROCK IN BOSTON: On November 1st I was treated to the best live performance I have seen in a month.
The Never played an exceptional set here in Boston
, bringing their amazing, storybook songs and demonstrating that they could be one of the most creative bands in America.
THE NEVER
Yes
, that is a kitten.
The Never is touring in support of the "Antarctica" storybook record. It's a painted storybook that is supposed to be synched to the band's music. Cues inside the book's beautiful pages tell you when to play each track. Until then you are supposed to read the story and take in the beautiful artwork of bassist/vocalist Noah Smith. Readers are taken in immediately. There is little other way to describe it...
Meet Alice

- protagonist of Antarctica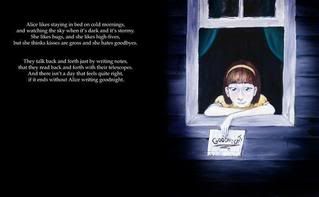 "I spent two years working on that book and the music," Smith said in Boston.
"My heart and soul are in (Antarctica)."
Most bands are started on dreams.
Noah Smith's band, The Never, started out as a senior thesis project! (
band history and bio
.) What began in education has only gotten better and better through touring the country. The songs are well rounded and filled to the top with theatrical presentation. I saw the band in Boston the day after Halloween. That night, they appeared on stage in NYC's Bowery Ballroom dressed as a Ninja Collective, of sorts.
The drama and complexity of The Never's songs
- take "The Witch" (
which starts kind of loud and scary but ends up being a sort of twisted love song - just listen!
) and the defiant "The Sharpest Place" song (
a song about being in a dark, scary, cold place - but it's really about internal strength and fortitude
) proves out a theory of mine.... that
great music always finds a way to be heard
.
This band was an exceptional find and their album is a very highly recommended purchase! The Never is a must see live on the road!