Police Video - The Kin ward off the Cops with their Music!
The Kin are indie rockin' brothers from Australia living in New York city.
They have made a name for themselves recently by nearly constant touring up and down the eastern seaboard - specializing in the corridor from Boston southward to Washington D.C.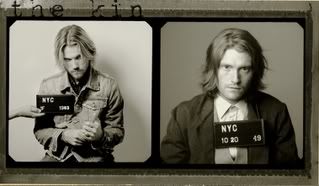 The band just released their fourth album,
"Rise and Fall"
this month and are trying to get the music out to a wider audience. A recent stint further south and late night driving on unfamiliar roads found them in a spot of trouble with Mr. Law. Good thing for Issac and Thorry that the southern cop that pulled them over had a taste for their music. (
Is this the coolest cop in the world, or is he a jerk for trying to playing power trip?!
) Great for us that the band caught the whole thing on their video camera which they placed in the window:
The Kin: Lost in Atlanta

TONIGHT in Northampton, MA @ 7:45pm
The Iron Horse
20 Center St.
Northampton, MA 01060
Thursday, October 25, 2007 in BOSTON (doors open 8pm)
The Paradise Lounge
969 Commonwealth Ave.
Boston, MA 02215