You Ready for This? The Quest for The Best - Fantasy Football
I have said it before, but for clarity's sake - I'll say it again.
You wouldn't know it, but I am as big and as knowing a sports fan as I am a music enthusiast. And, truly, that's saying something. My policy is to seldom merge the two, but opening week in football has stirred the creative side of me.
The Quest for the Best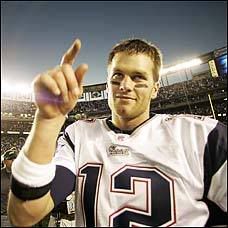 The Pursuit of Excellence..
A former player myself,
I quit after collecting more injuries than accolades in high school. Now, I leave the playing to the guys on the field. I have come to enjoy, however, the much enjoyed but often maligned past time of Fantasy Football to keep it interesting - even when the Patriots have already played or are on their bye week.
Here is my 2007 fantasy team in an eight-man league.
What do you think? (And feel free to drop me a line about your team.) Then there are some songs (a ten-track mix I threw together) to celebrate this joyous sports season!
| | |
| --- | --- |
| Quarterback | Tom Brady |
| Wide Receiver | Torry Holt |
| Wide Receiver | Hines Ward |
| Tight End | Antonio Gates |
| Running Back | Joseph Addai |
| WR/RB | Clinton Portis |
| WR/TE | Antwaan Randle El |
| K | John Kasay |
| DEF | Pittsburgh |
| D | Shawne Merriman |
| D | Adrian Wilson |
| DB | Ed Reed |
| DL | Zach Thomas |
| DL | Adalius Thomas |
| BENCH | Eli Manning, QB |
| BENCH | Asante Samuel, DB |
| BENCH | Jeremy Shockey, TE |
| BENCH | DEF – Carolina |