Rilo Kiley - All Grown Up and Better than Ever with "Under The Blacklight"
I decided to write my review of Under the Blacklight - the highly recommended new release from Los Angeles' Rilo Kiley in narrative form.

Rilo Kiley plays a sold out show at the Avalon here in Boston tonight.
I was driving home from work listening to Rilo Kiley's new record and it finally became clear "

Under the Blacklight

" is one of the finest releases of 2007.
Rilo Kiley in 2007 - Better than Ever
Jenny Lewis has only improved
- perhaps "sharpened" is a better adjective, due to her sojourn with the Watson Twins on last year's "
Rabbit Fur Coat
" album. Due to that experience and perhaps tearing away -if only temporarily, from her Rilo Kiley creative partner Blake Sennett - Lewis had some more room to grow and improve. Both Lewis and Rilo Kiley are better for that briefest of deviations. The fans are the real winners. There always is some resistance to change and I anticipate that the new album may actually be rejected by some longterm fans. All I can say is that change is good!
For the most part
, the lyrics of the new album aren't as important as the delivery here. The music and Lewis' spectacular voice are what's most important here. Together they paint a beautiful picture. It's easy to enjoy some of the words, though. In "
Breakin' Up
" Lewis has this bejeweled lyric:
"The trail is a thorny crown
You wear it well
Just like a King
Revenge is the saddest thing
Honey, I'm afraid to say
You deserve everything"
Being happy is the sweetest of sweet revenges! And within moments, Lewis repeatedly tells us how good it is to be free. And we believe her.
As I pulled up to a stoplight I realize, Lewis' trademark voice has a new edginess one might not expect.
It's "
Moneymaker
" - and it's a strong-willed, sexy number - the band would be fools not to follow. The lyrics, empowers while it teases. "You've got the money maker, this is your chance to make it" - the tracks dissolve into fantasy but the track proves out a theory: Rilo Kiley isn't all it's cracked up to be. It's much more these days. The people in the next car know how much I like the album - "
Moneymaker
" is rattling windows.
The most interesting track on the new album is "15."
It's rock's latest version of the lolita song. The beat bobs and weaves through the track. The first protagonist here is an older (but only 25 yrs old) man with a string of bad luck. She - being the other hero, is young and unexperienced but highly excitable. She is easily categorized by her thirst for life and everything in it. The images here are incredible....
She said, "
Is there anybody out there
?"
She was bruised like a Cherry, ripe as A Peach
How Could he have known she was only 15?
...
He was deep as a graveyard, white like tv…
How could he have known, that
She'd be down for almost anything?
And so it goes. Under the Blacklight is one of the best albums of the year.
Pick it up and hit repeat. I pulled up to the house and went to get out. I put the key back in and turned it. The stereo fired up again.
I hit eject; grabbed the Rilo Kiley disc and took the music inside where I could listen for just a little while longer.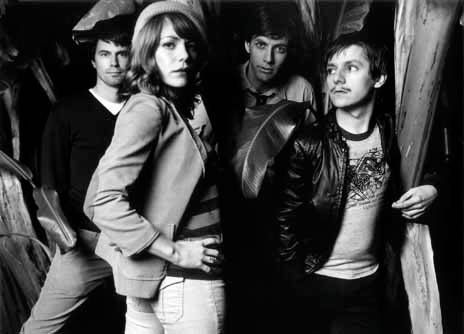 After tonight's show, Rilo Kiley has a two-night stand at Webster Hall in New York.