Right up Your Alley - A NEW COLLECTION of LIVE 50's style Surf, Rockabilly and Garage Rock!
DATELINE: NEW JERSEY"Garage Mayhem - Live at Asbury Lanes"
is a hot new East Coast collection of surf and rockabilly music drawing heavily from the 1950's and surf culture. The performances are all live and recorded at the Legendary Asbury Lanes venue in New Jersey. This live performance collection is out on
Headshop Records
and features a pair of songs from each of these artists:
Muck & the Mires (Boston), The Brimstones (New Jersey), Thee Minks (Philadelphia), Sons of Moon (New York), The Misteriosos (Philadelphia), The Coffin Daggers (New York), and Mondo Topless (Philadelphia)
. Perhaps what's most exciting about the collection is that the songs were all recorded in front of a live audience at Asbury Lanes where bowling and music are king! Fun and High Energy, this is a great collection to own.
New Rockabilly and Surf: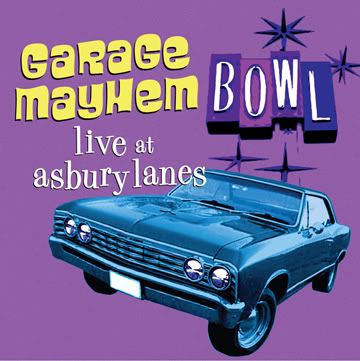 The 14-tracks in this collection were selected as a representation of the kind of excitement during show nights on the Asbury Lane stage. For more information about the venue and their artists (Providence's
Sasquatch and the Sick-A-Billys
rock Asbury Lanes tonight!) - click
here
.
Asbury Lanes