Experimental and Incredible: NY's Slow Six & the RSL Record Giveaway !
There isn't much I can really say that the music can't communicate.
Experimental and Neo-Classical Instrumental music have clearly crashed the mainstream with the success of artists such as Explosions in the Sky and Sigor Ros
. Here is the latest entry into that fantastic world -
Slow Six
.
The New York indie band is on the verge of releasing their new Nor'easter album. Get ready to have your mind blown.
The songs will get some prime time playing during my downtime (not that there's much of that to speak of.)
Slow Six arrives in Boston playing Hennessey's in Faneuil Hall on October 3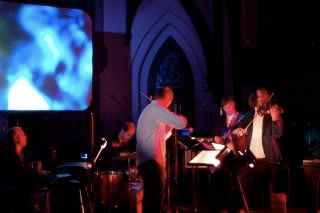 FREE STUFF FOR LUCKY BLOG READERS!!!
Two lucky readers will win a prize pack which will have this brand new album in it!
I worked with
the Musebox
to set this baby up!
WINNERS
will receive the following: A brand new CD of
Slow Six's Nor'Easter CD
and
Vinyl Copies
of artists
BLOC PARTY
,
ISLANDS
, and
SCISSORS FOR LEFTY
!!!
"How Do I win?"
you ask.
Email me
with your name and contact information
. That's it. (
Hey, don't freak out. I don't share that with anybody and I don't do junk mail.
) Two lucky winners take home all the loot. The rest will need to wait for my next giveaway - but this one is pretty sweet. - Ryan