The Black and White Years need Your Help to Play Austin City Limits! - My interview with this HOT new band.
Indie Rock fans unite!
Vote with your free minds, your impeccable sense of taste and your keyboards! One of the best and under-appreciated bands in America could use your support to play under the bright lights of an Austin City Limits stage and there is very little time to help them out:
Regular readers know that I interviewed
Austin's incredible
Black and White Years
back in March- just after they knocked people's socks off at this year's South by Southwest Music Festival. Well, now they need your help to take the stage again in Austin! The band accidentally forgot to contact me for help with the contest (sponsored by mp3.com, Paste Magazine and DELL computers) until yesterday afternoon.
That leaves us just one day to help get this most deserving band

from #11 - #5.... the spot they need to be in to move on.
There are enough of you regular readers to make this happen.
Please Vote.
THE BLACK AND WHITE YEARS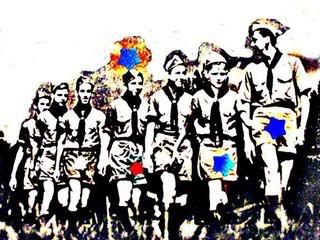 Don't know the band? No worries, here's my interview with Scott Butler and Landon Thompson from this Spring. Read the words, soak up the music and vote for this tremendous new band!!!
DATELINE: AUSTIN, TX - March 2007:
Already sporting a wicked new sound,
The Black and White Years
closed the iconic South-by-Southwest Music Festival with new fans, a couple of album offers and a dedicated producer - Jerry Harrison of the Talking Heads! It was one hell of a month and if everybody took something away from the experience -
this band
was the biggest winner!
Here is my interview with the Austin band as they talk the "Great Leap Forward" towards a new record deal and into the unknown!
Landon Thompson and The Black and White Years have cause for celebration.

photograph by Travis Glodt
The story couldn't be more dramatic, or perhaps, more fitting... Weeks before the Austin music festival was to take place, I got exposed to The Black and White Years and was won over by their dynamic sound. They are intelligent, raw and they groove. They use the best part of the indie-rock sound collective consciousness (channeling elements of the Talking Heads, Beck, Of Montreal and David Bowie into their songs) while still managing to sound new and very fresh. The blend of unique sound and high promise landed them a spot in South-by-Southwest.

What would happen next was not a good thing. The band returned home one day to find all their gear and their computers stolen. Everything gone during a break-in which would have destroyed a lesser band.

With the help of the fans, friends and family the band got back on their feet just in time for the festival - and that's where our story picks up. Short story long - The Black and White Years kicked ass in Austin and won over a whole lot of hearts.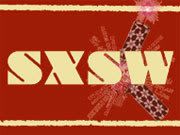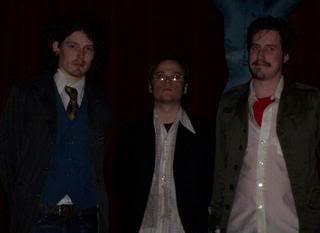 The Band (from left)

John Aldridge: Guitar, Piano, Vocals
Landon Thompson: Lead Guitar
Scott Butler: Bass and Brass

My interview with Scott Butler and Landon Thompson of the Black and White Years
Ryan (RSL):
Hey guys! Tell me what's it's been like recently for the band with the South-by-Southwest Music Festival and all of the attention you have been getting.
Scott Butler (Scott):
Hi. Um. SxSW was as exhausting and mind-boggling as everyone said it would be. And as for the attention we've been getting, it's the kind of attention where smart people in quiet places really like your music.
Landon Thompson (Landon):
We played five shows in three days for audiences ranging from 15 to 150 people. The right people, luckily, got our demo and saw some potential.
Scott:
And the responses we've gotten from everyone at gigs and in general has been as positive and supportive as we ever could have hoped! Right now, we feel like the pretty girls at the prom. (laughing) Or the ugly girls who were really funny and got nominated prom queen.
RSL:
Well, you deserve the attention. Now, the big surprise - the most pleasant unveiling here is that Jerry Harrison of The Talking Heads will be producing your next album. Congratulations!
Ryan's note:
In addition to being a great musician in a band of historical importance, Harrison has gone on to become a well-respected producer. He has worked with and produced songs for the Violent Femmes, Crash Test Dummies, Live, No Doubt and the Fine Young Cannibals. The fact that Harrison would agree to produce an album for The Black and White Years is cause for celebration and testament to just how good the band really is.
RSL:
Tell us how this came to be! Is Jerry a fan of the band?
Landon:
Thanks! Jerry Harrison heard our demo through Randy Miller, our manager - who worked with Jerry when Jerry produced
Live
. He liked the music and wanted to produce. He's a fan and he's making our album for an indie label, Brando Records."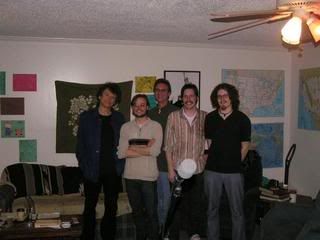 Come Together: (from left)

The Talking Head's Jerry Harrison, Landon Thompson, Black and White Years manager Randy Miller, Scott Butler and John Aldridge
Scott:
After several weeks of troubled sleep, SxSW provided the opportunity for Jerry to see us live. Jerry saw us at our showcase at Opal Divine's and we met after. Over the next couple of days, he hung out at the band-house and heard all our material. Now, we're in discussions about dates, times, how's, who's, where's, etc..
RSL:
We spoke earlier and I know you have some material basically "ready to go" for this forthcoming album. How far away are you, creatively, from getting this thing done?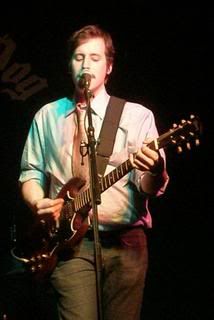 Scott Butler

Scott:
Without a drummer, we're forced to program all our drums and keyboards into our Roland Juno-G, so that we can play live. What that basically means is that the songs live are essentially the way they will be recorded, with the exception of vocals, guitars, and bass.
Landon:
Of course, we're also going to work with a live drummer on the record……..The name Steve Ferrone is being tossed around.
RSL:
Wow,
Steve Ferrone
would be huge. For those readers who haven't been in Austin during the Festival Season, can you tell us what it was like this year? What were your impressions being a featured entertainer?
Landon:
We feel blessed that the music community in Austin has been so supportive and has so quickly responded to our music. It's amazing how quickly a band can move up from pizza parlors to great venues here in Austin, despite the large numbers of bands vying for the same slots.
Scott:
And even in the small venues – the pizza parlors, etc. you can get a huge response from the crowd. Austin feels like a community more than some large cities. At our level, it's a real trip when someone recognizes you by name at a bowling alley.
RSL:
There is a fun-paced, playful element to some of your songs. What would you like people to take away from one of your shows?
Scott:
By the end of the show, I want the audience to be covered in sweat, but not their sweat. Our sweat!
Landon:
Imagine old-school Jane Fonda in her tight yellow spandex and leg-warmers really working it out, getting into it, killing the calories. . . (laughs)
RSL:
Is there anybody in the band who is simply fixated on a musical hero? For a long time - even when I was younger, I listened to a lot of Bob Dylan, for instance.
Landon:
None of us are fixated on any single musical hero anymore. Scott was obsessed with Billy Corgan from The Smashing Pumpkins. John was fixated with experimental accordion and wacky shit from Finland.
Scott:
Landon was all about Mr. Bungle and Tool and classical guitar. Now, we're all a bunch of dorks who listen to music from Brazil and Disney.
Landon:
And, of course, 80's music.
RSL:
Can you select one of your songs and tell us how it came about? What was the creative process like?
Scott:
The song "
Waking/Dream
" is interesting because it originally was a
Brian Setzer Orchestra
-type song. Which I disliked, though I wrote it. We played the song for months and months in this awful swing-style. However, after we re-started the band with a keyboard and a new name, it was only appropriate to re-invent "
Waking/Dream.
" Thank goodness we did.
RSL:
Are there any contemporary bands influencing you these days?
Landon:
Some contemporary influences for us are
Of Montreal, Arcade Fire, Clap Your Hands, Say Yeah!, Alfie, The Bees
(UK),
I Am Kloot, Beck
(of course) and some others. Scott just listens to ass-loads of Brazilian music and
Stephen Sondheim
. Baffling. (laughs)
RSL:
What is something that people should know about The Black and White Years?
Scott:
We are pretty nice guys. We play soccer in the backyard. We sometimes get hurt doing that very thing. We came up with a list of band names that was several pages long, single spaced. And we hated them all for different reasons. Then, we got fed up and starting doing the encyclopedia thing. The first pages to which I turned were glossies of black and white era stars. The heading of the page was The Black and White Years. I think that's how it happened. Or I might have just said it. John hated it at first, but Landon and I were so fed up with the whole finding-a-band-name thing that we convinced him.
Landon:
Playing music is pretty awesome.