A Scorcher at the Paradise Lounge - Review of Cary Brothers, Stars of Track and Field and Priscilla Ahn
Hyperbole, exaggeration and over-punctuation: these are the blogger's friends. It's what we do. But I do not exaggerate a bit when I tell you
it was hotter than sin last night at the Paradise Lounge!
We all made it through with an impressive line-up: alterno-pop crooner Cary Brothers, ambient shoegaze guitar rock from Stars of Track and Field and Lullabies from Los Angeles solo artist Priscilla Ahn.
It was at least 95 degrees in the club for most of the night - then it got hotter.
For some reason there were no apologies from staff or management (
boo-hiss
) for the lack of humane amenities - no air conditioning - not
even
working fans in the dead of the Boston summer??!! "
Look into your heart!
" You understand the equation - it's actually quite simple: Ninety Degrees outside + Pack the place to the gills with music enthusiasts and what you have is An Oven. The music was pretty damn impressive and the beer was cold and the
conversation
was good... The night was saved - but what a scorcher!
Paradise Lounge headliner Cary Brothers
Cary Brothers
appeared on Friday, supporting his 2007 release - "
Who You Are.
" Emotively driven, his performance last night demonstrated that he was able to breathe life into a stage and the crowd around him (no matter how close they were to either erupting into flames or melting.) The tracks start slow - sometimes hanging in the balmy air as just a whisper. The songs rise slowly like the tide until there is a monstrous clash of guitars, voice, keyboards and drums! Explosive by the end of the show, I was very pleasantly surprised by what I heard.
I had expected that Brothers was just another pop singer. He proved to be a musician and a performer with a sense of the dramatic.
His band played two songs in duet form with opener
Priscilla Ahn
, who sang very well.
From Los Angeles: Priscilla Ahn
Ahn opened the night & later performed two songs with Cary Brothers
I was impressed most by Priscilla Ahn's frank open conversational style with the crowd and her impressive command of her own music.
While her style, feminine and petite, isn't normally my cup of tea - she proved her voice could be powerful as well. Ahn opened the evening playing acoustic material from her new EP -
now available
.
Performance of the Night:


Stars of Track and Field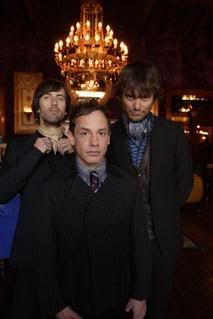 Portland strikes again!
An impressive performance in the incredible heat
The hottest performance of the night
was given by
Stars of Track and Field
. A trio of musicians from Portland, Oregon, who incorporate elements of shoegaze, ambient electronica, American indie music and classic guitar rock into something all their own. I closed my eyes twice during their show during song breaks and listened carefully. The next song that played barely resembled the one before. You could hear the elements and players were the same, but the progressions and tone were different. The band's influences must number in the dozens as one can hear echoes from bands from numerous decades in just one night. Also stunning - no bass guitar. Songs are played with two guitars in an unusual style. One player plays on time, the other behind until the chorus - when they, again, play together. The gap is filled with drums, samples and three-part vocal harmonies. Most unusual! I will be going out and picking up the band's
latest release
: "
Centuries Before Love and War.
"